Welcome to Rab Island, an enchanting gem nestled in the heart of the Adriatic Sea. Rab is known for its incredible historic old town, crystalline waters, sandy beaches and, striking sandstone landscapes, lush pine and oak forests. All this makes a perfect blend of unspoiled natural beauty and rich cultural heritage.
Many call it the 'Happy Island' – a name that captures the spirit of this place, where life is simple, the people are friendly, and the beauty is boundless. It is one of the gems of the Adriatic Sea in Croatia.
Rab Island is more than just a tourist destination; it's a sanctuary for those seeking solace from the hustle and bustle of city life. The island is a haven of tranquillity, where time seems to stand still, and the azure sea meets the emerald green of the Mediterranean vegetation. The island's heart, Rab town, is a charming settlement that skillfully combines historic charm with modern hospitality.
One visit to Rab Island, and it's easy to see why it's often described as an Adriatic paradise. Its beauty is untouched by the ravages of time, and its charm is as irresistible as the warm, inviting waters of the Adriatic Sea. Whether you're a seasoned traveller or a novice explorer, Rab Island promises an unforgettable journey that's sure to leave a lasting impression on your heart.
Various faces of Rab Island
Rab's landscapes are diverse, bringing charm and inviting to discover different faces of the island. Mainland-facing side of the island is almost bare, similar to the moonscapes of Pag Island, the victim of ferocious bura wind bringing salt. 
The other side is greener and inhabited. It is a mosaic of small fields, vineyards, olive groves and woods. The central part of the coast around Rab town is almost entirely urbanised. The North-western Kalifront peninsula is an oasis of green, a continuous stretch of evergreen oak forest. This is an endemic, very dark and thick forest, a huge natural value of Rab island. Most of the Kalifront peninsula is closed to the public, so trees push directly to the sea. Beautiful elongated coves stretch deep into the Kalifront peninsula.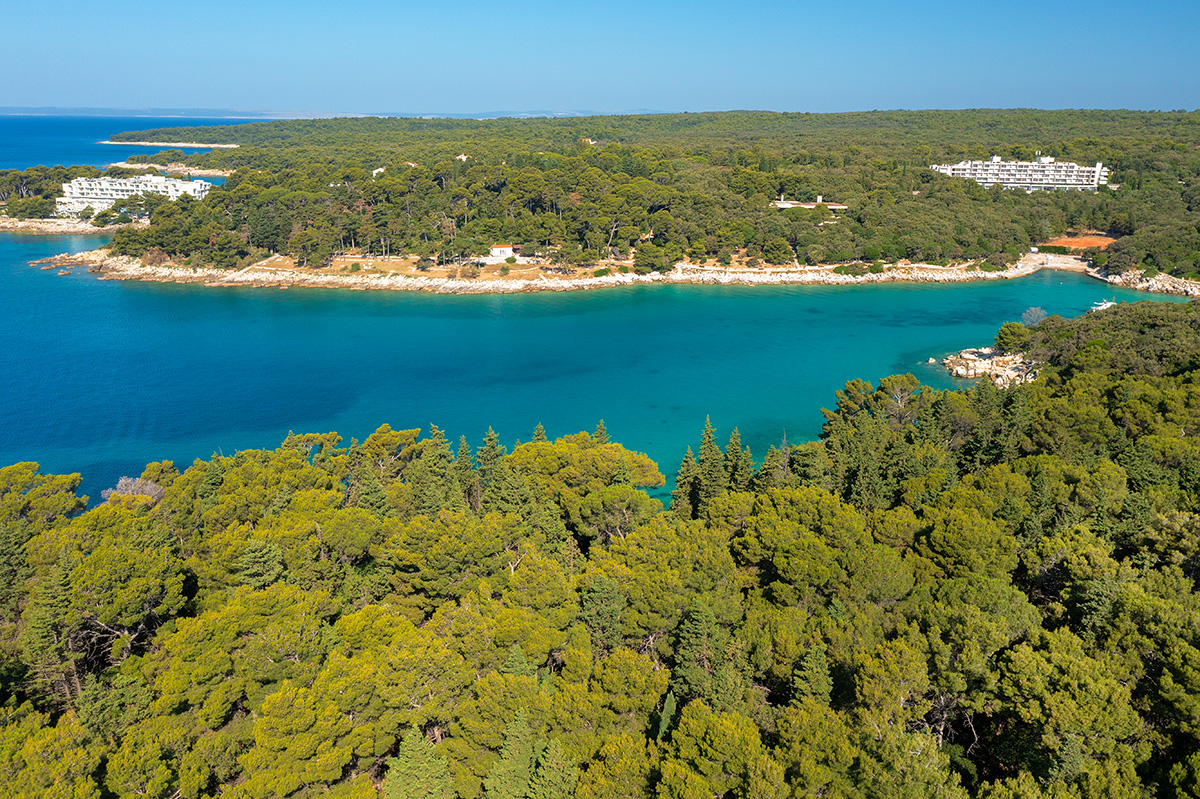 The Lopar peninsula, with its distinctive geological features and exciting flora and fauna, differs from the rest of the Croatian coast. The peninsula was formed around the estuary of an ancient river some 40-50 million years ago. The loose sandstones are sculpted by the elements, especially the bura wind, creating a striking landscape of indented coastline with low hills and torrential gullies quite different from the carbonate rocks that prevail in the rest of the Adriatic coast of Croatia and is similar partly to Pag Island.
Sand is not restricted only to Lopar. Many beaches around the island are sandy thanks to the sea currents, especially in tranquil coves. In small areas, rocks, sand and pebbles are found, rendering a remarkable Rab landscape. 
Rab is a small island, and thanks to the good roads and hiking trails, it is possible to explore it even in several days. For nature lovers, Rab offers a host of outdoor activities. You can hike in the Kalifront Peninsula, a forest reserve home to diverse flora and fauna. Or you can rent a sea kayak and explore the island's rugged coastline.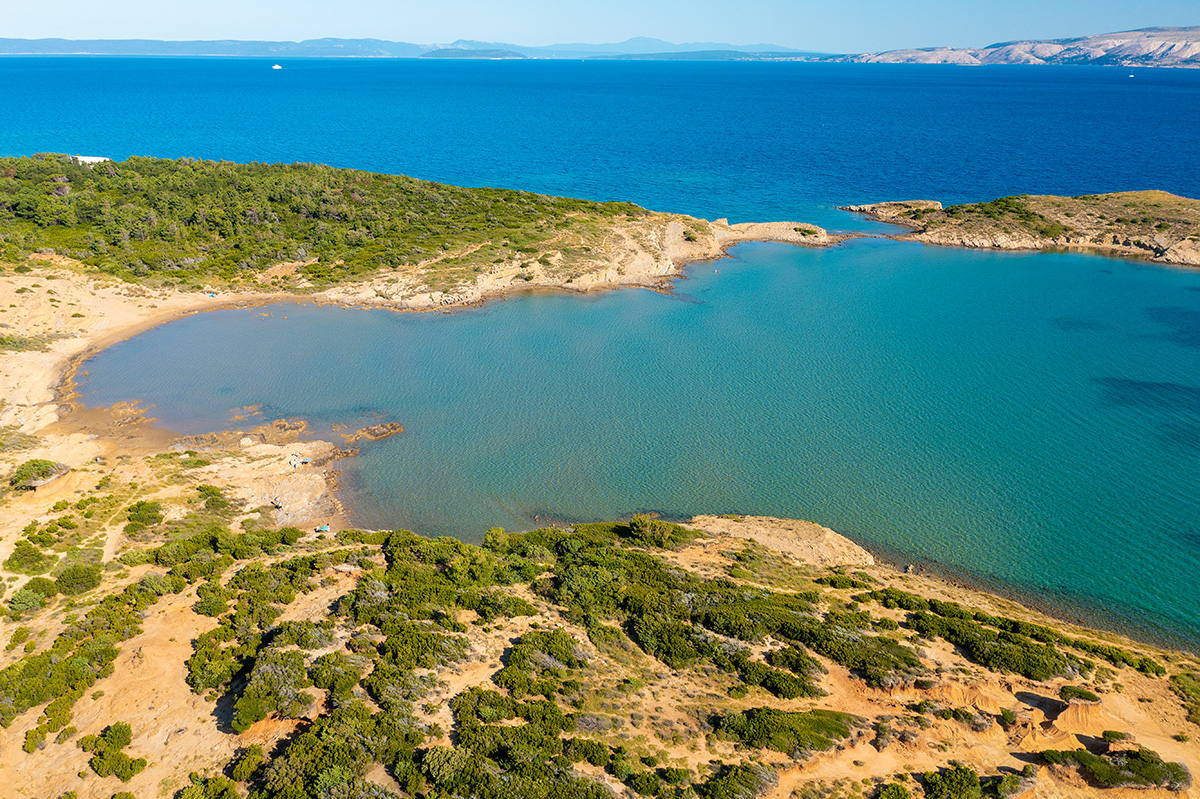 The History and Culture of Rab Island, Croatia
Rab Island is steeped in history and culture that date back to ancient times. Its story begins with the Illyrians, the island's first inhabitants, who named it Arba – meaning 'dark, forested'. The Romans, who later arrived, Latinized Arba, which evolved into 'Rab' as we know it today.
The island's rich cultural heritage is evident in its architecture, particularly in Rab Town, where four bell towers stand as proud reminders of its past. These towers are the symbols of Rab, each with its unique history and architectural style. The architecture of the old town rivals Korčula, Hvar, and even Dubrovnik.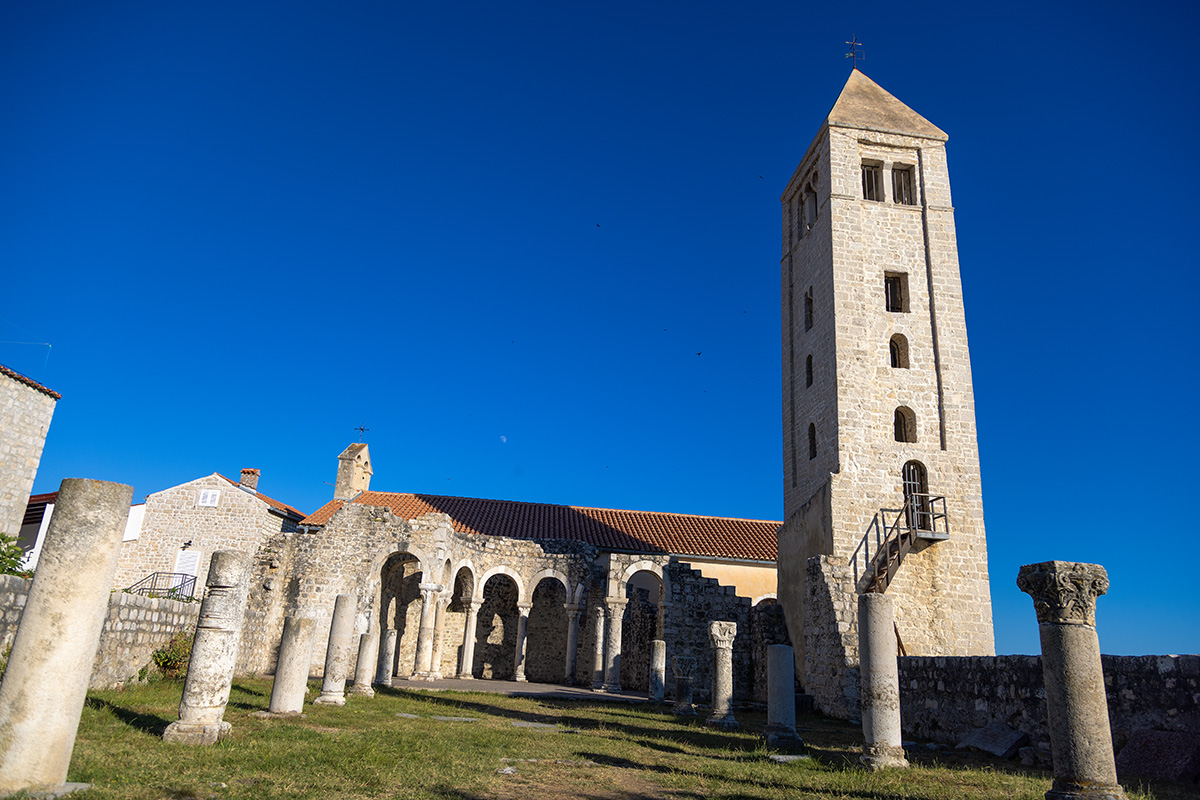 Rab's cultural calendar is filled with traditional events and festivals that celebrate its history and heritage, the most notable being the Rabska Fjera, the oldest medieval festival in Croatia.
Rab's culture is also reflected in its culinary scene. The island is known for its Rab cake, a traditional almond-filled pastry that's a must-try for any visitor. The local cuisine is a delightful mix of Mediterranean flavours, emphasising fresh seafood, locally grown vegetables, and aromatic herbs. Dining on Rab Island is an experience, one that combines the island's rich history with its vibrant present.
Exploring Rab Town: A Blend of Historic Charm and Modern Hospitality
Rab Town, the island's main settlement, is a charming blend of historic charm and modern hospitality. The town is renowned for its four bell towers, each with its unique history and architectural style. The oldest, the Romanesque bell tower of St. Mary the Blessed, dates back to the 13th century and offers panoramic views of the town and the surrounding sea.
A walk through Rab Old Town is like stepping back in time. The town's narrow, winding streets are lined with medieval buildings, their stone facades bearing witness to the island's rich history.
The town's streets are lined with well-preserved medieval buildings, their facades bearing witness to the island's rich history. Among them is the Rector's Palace, a Gothic-Renaissance building that once housed the island's rulers. Today, it's home to the Rab Town Museum, where you can delve deeper into the island's past.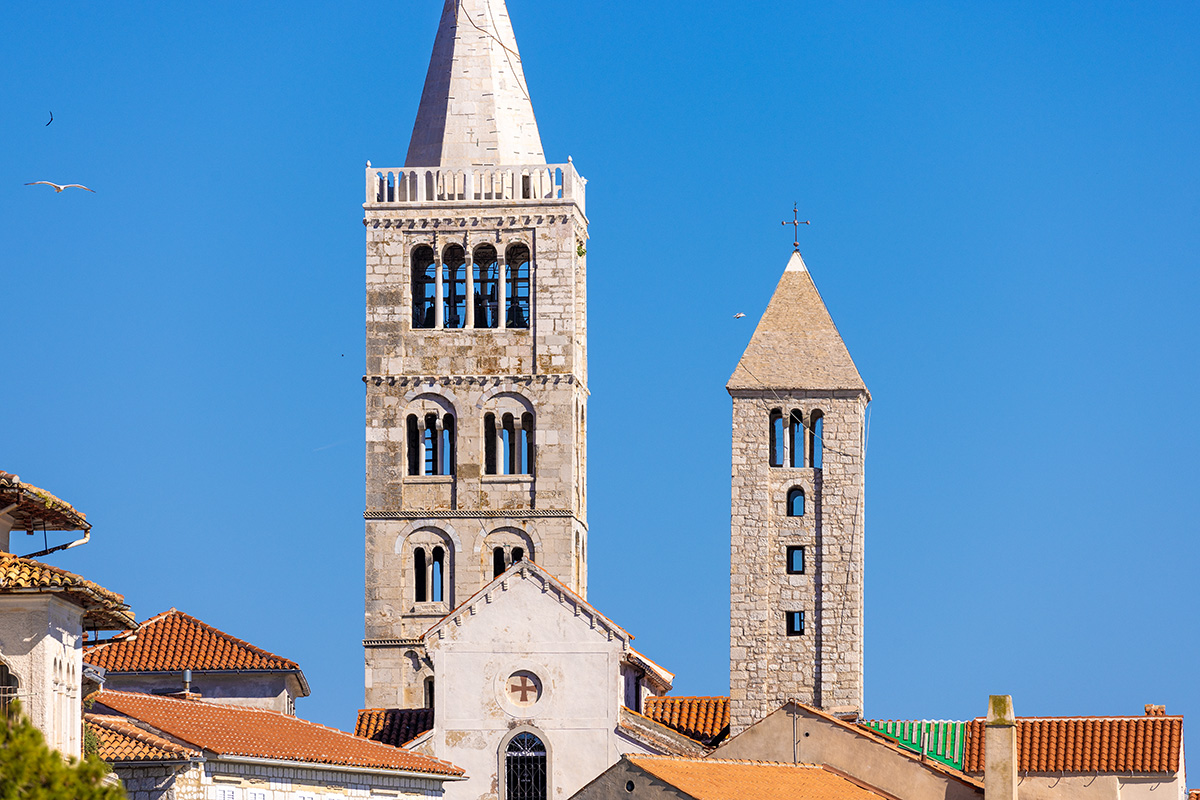 The town's main square, Trg Municipium Arba, is the heart of Rab Old Town. Here, you'll find the Loggia, a 16th-century public building that served as a court in medieval times. Today, the Loggia is home to a café, where you can enjoy a coffee while soaking up the town's historic atmosphere.
Despite its historical charm, Rab Town isn't stuck in the past. The town boasts modern amenities, including chic boutiques, gourmet restaurants, and cosy bars. The marina is a popular spot for yachts, and the town's beaches are some of the best on the island. Whether you're a history buff or a beach lover, Rab Town has something to offer.
The Spectacular Beaches of Rab Island: An Overview
Rab Island is renowned for its beaches, some of the best in Croatia. The island boasts over 30 sandy beaches, each with its unique charm. Some are ideal for families, with shallow waters and many amenities. Others are secluded hideaways, perfect for those seeking peace.
You don't have to go far from the old town to find refreshments on hot days. Just below the ancient walls is a and towers is a semiurban rocky beach. Laidback cafes complement the relaxed life.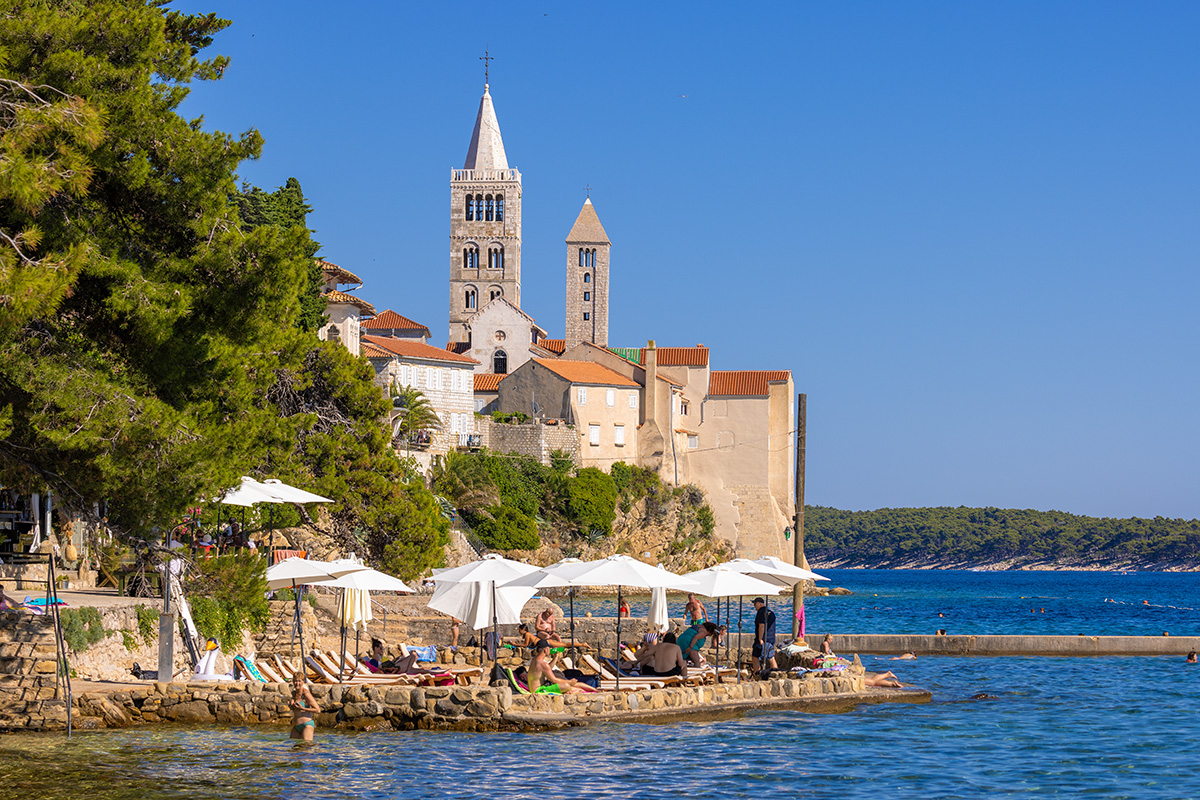 Beach in Rab Town
Pudarica Beach is a popular choice for its lively atmosphere and excellent facilities. Here, you'll find beach bars, restaurants, and even a nightclub. 
If you prefer a quieter beach experience, consider heading to Suha Punta, a peaceful pebble, rocky and sand beach surrounded by pine forests.
But the crown jewel of Rab's beaches is undoubtedly Paradise Beach. Located in Lopar, this sandy beach stretches over a mile and a half and is considered one of the best beaches in Croatia. Its shallow waters and sandy seabed make it a hit with families. At the same time, its wide range of amenities ensures a comfortable day at the beach.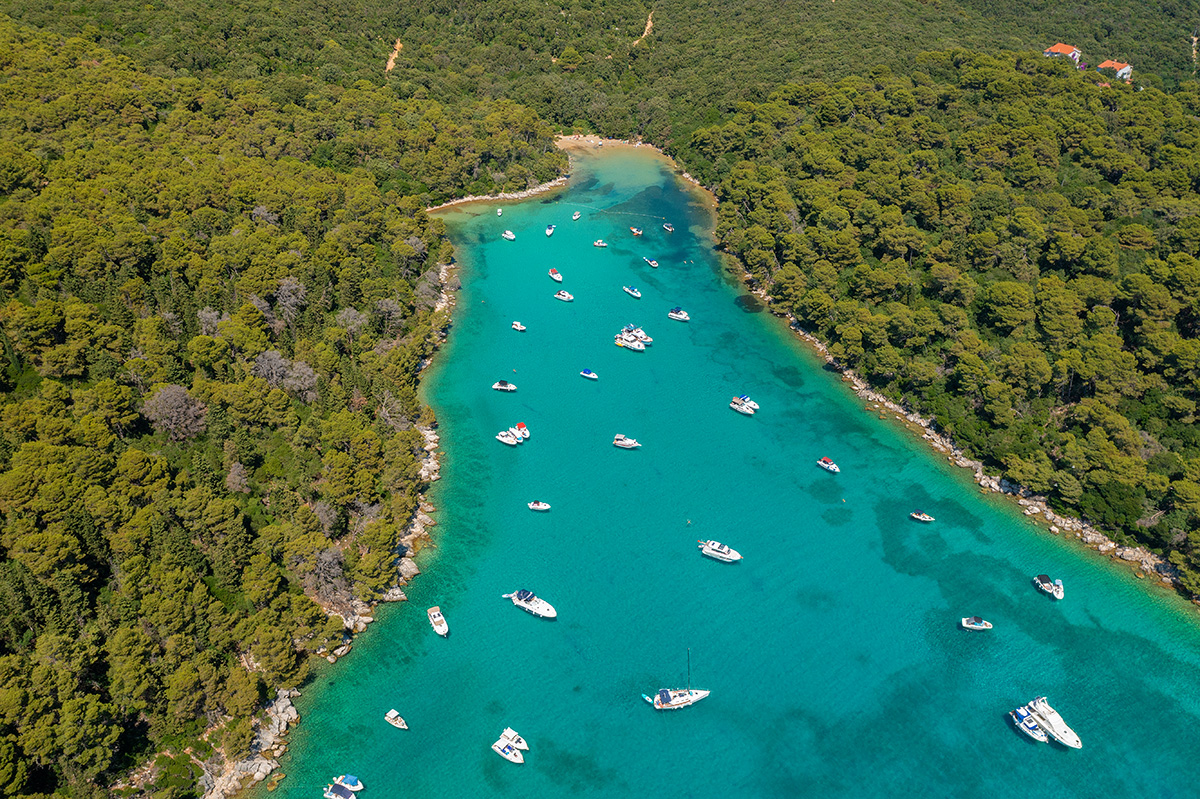 Ćifutna Bay
A Closer Look at Paradise Beach Rab Island
Paradise Beach, or Rajska plaža as it's known locally, is a slice of heaven on earth. Its golden sands stretch as far as the eye can see, and its crystal-clear waters are shallow and warm – perfect for swimming and splashing about.
The beach is well-equipped with amenities, including sun loungers, parasols, and beach bars. There's also a water park for the little ones and a variety of water sports on offer for the more adventurous. From banana boat rides to jet skiing, Paradise Beach has no shortage of fun.
But what really sets Paradise Beach apart is its atmosphere. Despite its popularity, the beach never feels overcrowded. There's a sense of community here, with locals and tourists mingling freely. Whether you're building sandcastles with your kids, enjoying a cocktail at the beach bar, or simply soaking up the sun, you'll feel right at home on Paradise Beach.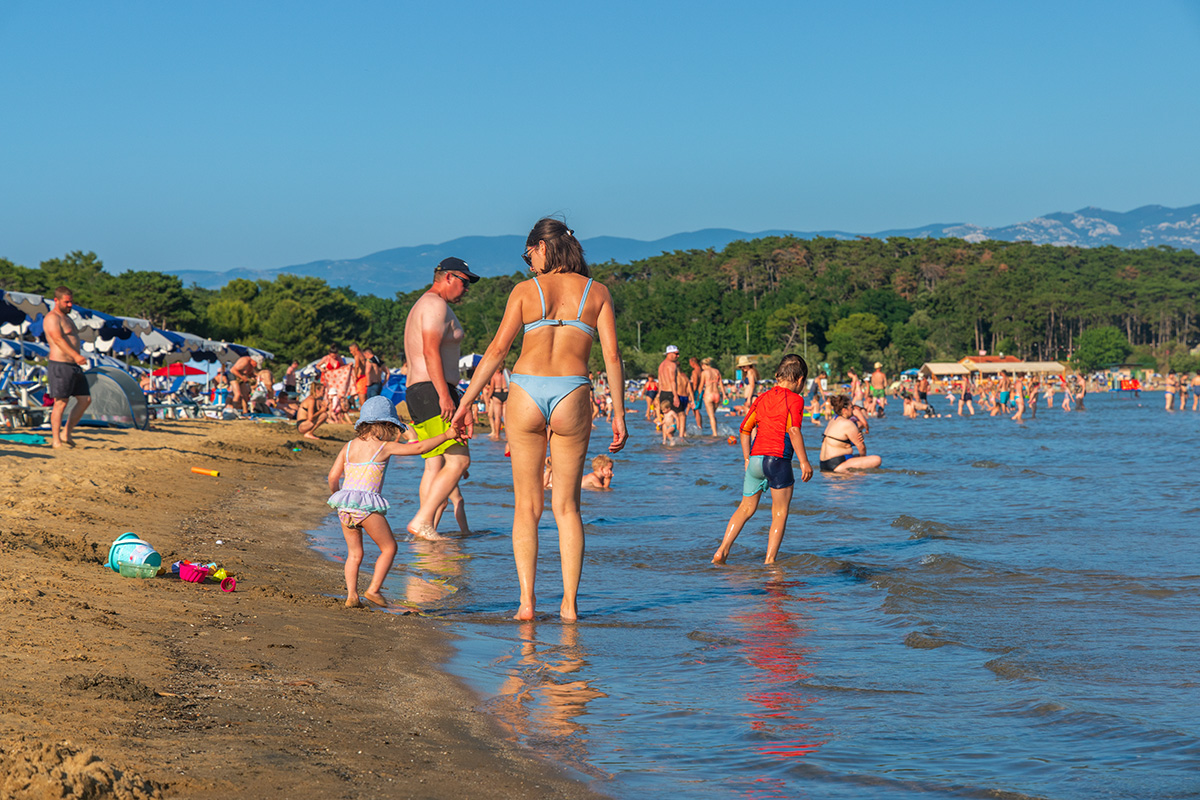 While Paradise Beach may be Rab's most famous beach, Lopar is home to several other hidden gems that are well worth discovering. These sandy beaches are a bit secluded, which makes it a peaceful haven for those seeking tranquillity. The clear, shallow waters are ideal for swimming, while the surrounding cliffs provide a dramatic backdrop to your beach day.
You can explore the otherwordly landscapes and untouched beauty. Getting to the beach requires a hike, but the effort is well worth it. Once you arrive, you'll be greeted by pristine sands, clear waters, and a sense of peace that's hard to find on more popular beaches.
Nudist Beaches in Rab: A Different Kind of Beach Experience
Rab Island is known as the birthplace of naturism in Croatia. It all started in 1936 when King Edward VIII and Wallis Simpson obtained permission to swim naked on the island. Since then, Rab has become a popular destination for naturists, with several nudist beaches dotted around the island.
Kandalora Beach is the most famous nudist beach in Rab. Located in a secluded bay, the beach is a peaceful haven where you can enjoy the sun and the sea in complete freedom. The beach is well-equipped with amenities, including sun loungers, parasols, and a beach bar.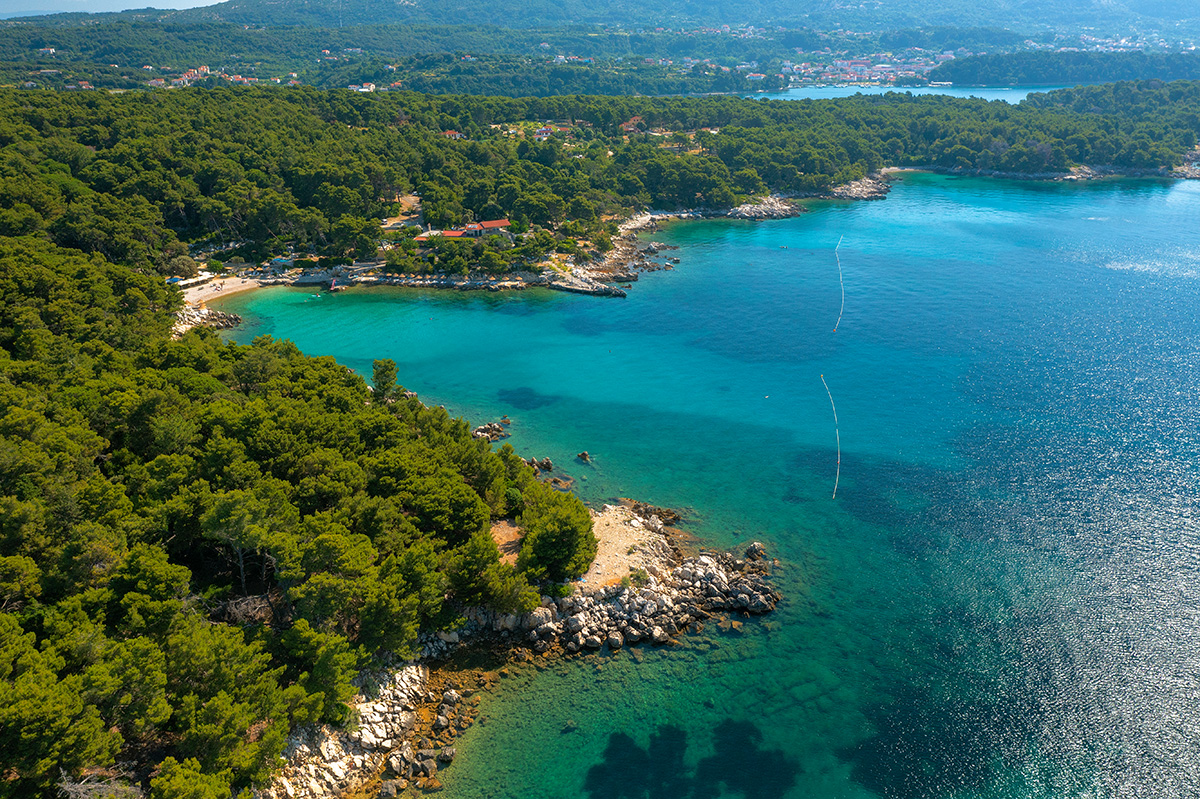 If you prefer a more rustic beach experience, consider heading to Sahara or Ciganka Beach on Lopar peninsula. This naturist beach is known for its wild, untouched beauty. Getting to the beach requires a hike, but the effort is well worth it. Once you arrive, you'll be greeted by pristine sands, clear waters, and a sense of peace and quiet that's hard to find on more popular beaches.
How to Get to Rab Island: Your Complete Travel Guide
Getting to Rab Island is relatively straightforward. The island is well-connected by ferries from the mainland and other islands. The main ferry port is in Misnjak, on the island's southern tip. There are regular ferries from Stinica on the mainland, and the journey takes about 15 minutes.
If you're coming from another island, you can take a ferry from Krk or Pag. The journey from Krk takes about 1.5 hours, while the journey from Pag takes about 2 hours.
Once you arrive on the island, getting around is easy. There's a reliable bus service that covers the entire island, and taxis are readily available. Alternatively, you can rent a bike or a scooter and explore the island at your own pace.
Where to Stay on Rab Island: From Luxury Resorts to Budget-Friendly Options
Rab Island offers a range of accommodation options to suit all budgets. From luxury resorts to budget-friendly guesthouses, you're sure to find something that fits your needs.
If you're looking for luxury, consider staying at the Arbiana Hotel. This boutique hotel in Rab Town offers comfortable rooms, a gourmet restaurant, and stunning sea views.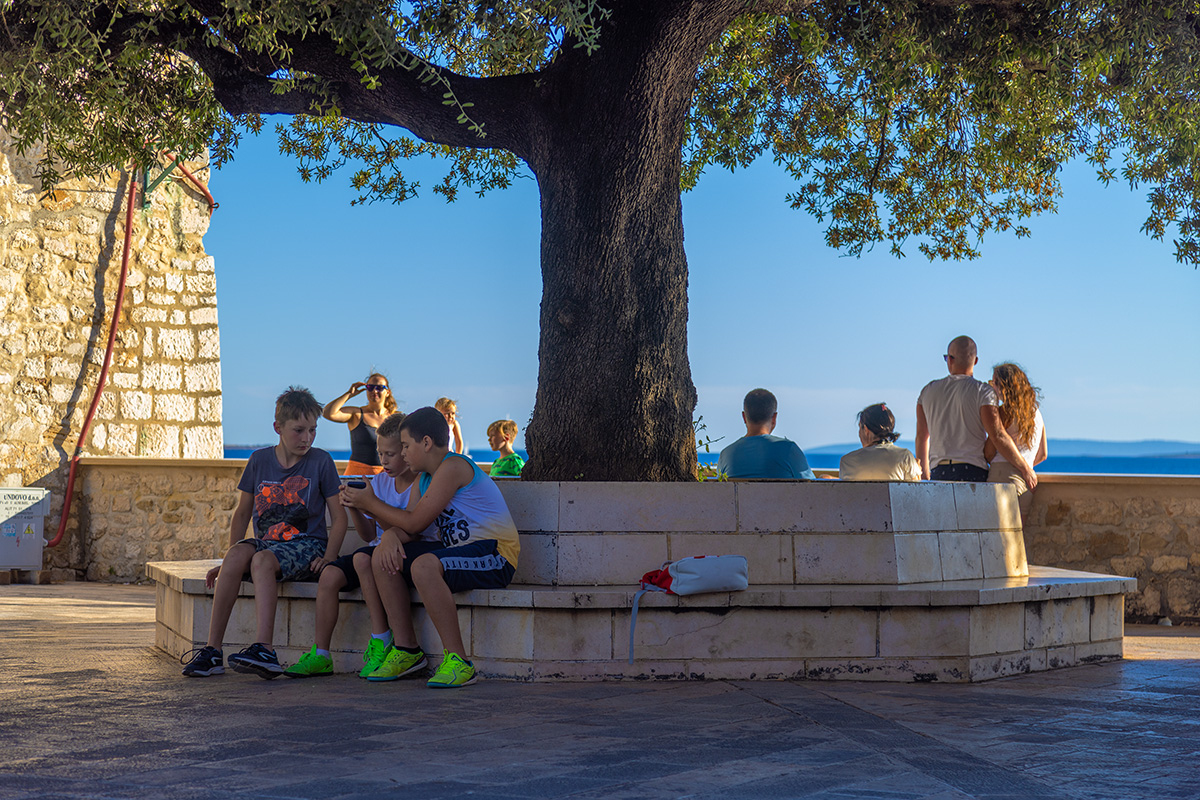 For a more budget-friendly option, consider staying at a guesthouse or a private apartment. Plenty of these are available on the island, and they offer excellent value for money. Many are family-run, so you'll get a taste of Rab's famous hospitality.
Final Thoughts on Your Journey to Rab Island, Croatia
Rab Island is a place that captures the heart. From its unspoiled natural beauty to its rich history and culture, Rab offers a unique travel experience that's hard to find elsewhere.
Whether you're exploring the island's scenic landscapes, delving into its history in Rab Old Town, or simply relaxing on its beautiful beaches, you're sure to leave with a wealth of unforgettable memories.
So why wait? Start planning your journey to Rab Island today. You won't be disappointed.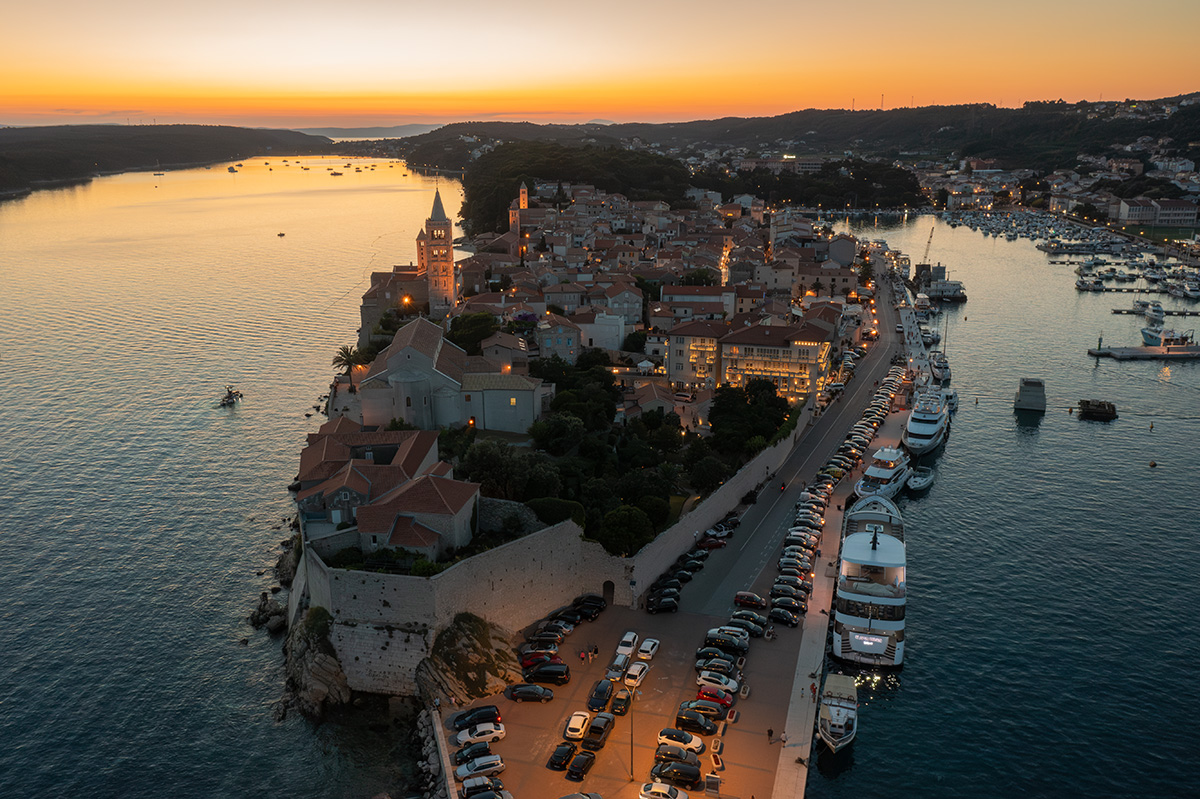 The Unique Appeal of Rab Island: Why is it Known as the Happy Island?
A stroll through the streets of Rab Island reveals why it's often referred to as the 'Happy Island'. Here, life is lived at a slower pace, and the island's inhabitants greet each other – and visitors – with warm smiles and open hearts. The atmosphere is relaxed and welcoming, and it's impossible not to get caught up in the island's joyful vibe.
The island's natural beauty also contributes to its appeal. Rab's landscape is a scenic tapestry of sandy beaches, crystal clear waters, and lush pine forests. The air is fresh and clean, and the views are simply breathtaking. Whether you're exploring the island on foot, by bicycle, or by sea kayak, you'll be captivated by its beauty at every turn.
But perhaps the most compelling reason for Rab's 'Happy Island' moniker is its sense of community. Despite its popularity as a tourist destination, Rab has managed to retain its close-knit community spirit. Events like the Rabska Fjera and the Rab Music Evenings bring locals and visitors together, fostering a sense of camaraderie and unity that's truly heartwarming.