Croatia is very diverse and offers so much, from the plains of the ancient Pannonian Sea to the actual Adriatic Sea and all in between. It is challenging to organize your trip, but we offer some tailor-made a trip, based on your time.
Weeks:
1 week in Croatia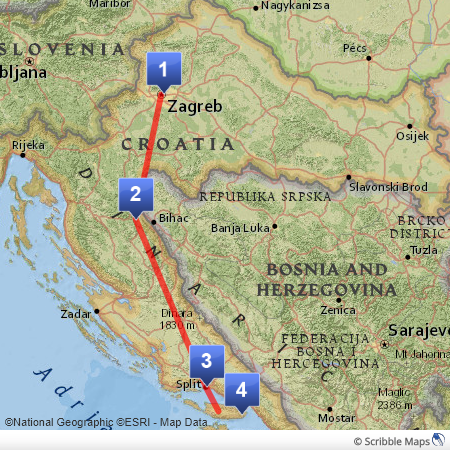 We presume that you arrive at Zagreb airport.
Spend the first day strolling historic center of Zagreb, the capital, soaking the central European architecture and lifestyle, sipping coffee on numerous street cafes.  Then head to Plitvice Lakes National Park, to experience the power of the waterfalls and serene lakes.
After that, the sun from the Adriatic coast is inviting. Split is the birthplace of Roman Empire Diocletian, and history still springs from every corner of the historic center and his palace. Sip the coffee, soak the morning or evening sun and enjoy siesta tie at the terraces on Riva, a seafront, observing the Šolta Island and boats. Hop on to one of them and head to Brač, one of the biggest of all Croatian islands. Explore the island in two days, don't forget memorable Zlatni rt (Golden Cap) beach near the town of Bol.