Pag is a stunning island in the Adriatic Sea with everything a traveller could want: stunning moonscape-like landscapes, breathtaking beaches, delicious cuisine, vibrant nightlife, and endless outdoor activities. In this Pag Island travel guide, I will share why this destination should be on your bucket list.
Pag is one of Croatia's most unique islands in the Adriatic Sea. Unlike other islands, it is relatively low. Much of the island is bare, almost moonscape landscape, especially the side exposed to Velebit Mountain. Ferocious bura wind sweeps the island and brings salt from the sea, rendering the soil almost lifeless. The island is elongated, with two large bays (one is DInuiuška and northwestern ), protected from bura. Part of the island, looking like the open sea, is greener, thanks to the leeway effect. 
Pag is one of our list of TOP 10 islands in Croatia.
Like most islands in Croatia, the underlying geology is limestone (karst) rocks, with lots of sandstone, resulting in many sand or fine gravel beaches. The combination of geology and elements has sculpted some of the most fascinating landscapes on the Croatian coast.
Read more about the nature of Pag
Getting to Pag Island and Transportation Options
The first question that comes to mind when planning a trip to Pag Island is how to get there. Fortunately, there are several transportation options available. If you are flying in, the nearest airport is Zadar Airport, which is approximately 60 kilometres away from Pag Island. The point of entry is the Pag Bridge, a scenic must-stop. From there, you can rent a car, take a taxi or use a shuttle service to reach the island. Another option is to take a ferry from Prizna on the mainland to Žigljen, a small town on Pag Island. The ferry runs regularly throughout the day, taking around 15 minutes.
Once you arrive on the island, renting a car is the best way to get around and explore all Pag Island's attractions. Several car rental companies are available on the island, and the rates are reasonable. If you prefer not to drive, bus services connect the major towns on the island.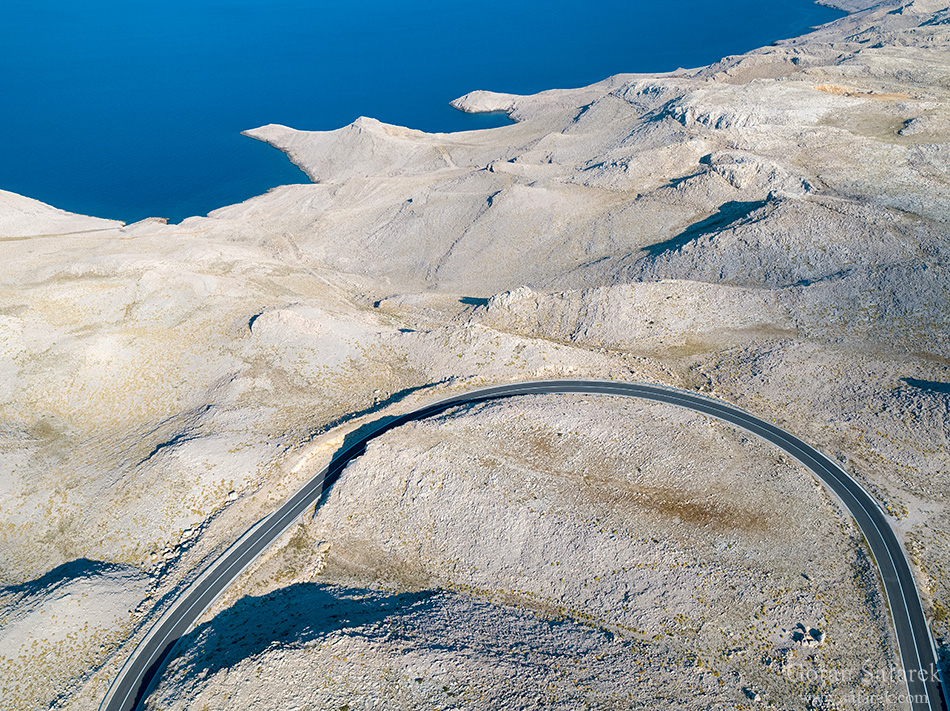 Accommodations on Pag Island
Pag Island offers a wide range of accommodations to suit all budgets and preferences. Whether looking for luxury hotels, apartments, or budget-friendly hostels, you will find plenty of options on the island. The town of Novalja, located on the island's western coast, is the most popular tourist destination and offers a variety of accommodations, from high-end hotels to affordable guesthouses. Suppose you prefer a quieter and more secluded location. In that case, several small villages and towns on the island offer peaceful and tranquil accommodations. Large camping Šimuni and Straško are great options for both budget and outdoor lovers. Another camp is Sveti duh, until recently very basic, today modernised to bungalows.  
The cultural heritage of Pag Island
Pag Island is known for its stunning natural beauty and rich culture. One of the must-visit attractions on the island is the Pag Lace Gallery, located in the town of Pag. This gallery displays the traditional lace-making skills of the local women, which have been passed down from generation to generation. Another popular attraction is the Church of St. Mary, located in Novalja. This 15th-century church is a beautiful example of Gothic architecture and offers stunning views of the town and the sea.
Lun, a long stretch of land poking from Novalja is home to ancient olive groves, where some trees are centuries old. Thanks to the trail, the olive grove can be explored on foot.
Exploring the Town of Novalja
Novalja is the most popular tourist destination on Pag Island and for good reason. This charming town offers a perfect mix of history, culture, and modern amenities. The town is dotted with beautiful churches, museums, and galleries, all offering a glimpse into the island's rich history and culture. The town's vibrant street life and bustling markets delight shoppers and foodies alike. You can sample traditional Croatian cuisines, such as pašticada (meat stew) and janjetina (lamb), in one of the many restaurants and cafes in the town.
Beaches of Pag
Pag Island boasts many stunning sandy, pebbly, and rocky beaches. Beritnica and Ručica beaches near Metajna, provide a tranquil atmosphere with awe-inspiring sea views. A string of beaches near Novalja, appeals to both the young and old, with clear, shallow waters and ample natural shade. Prnjica, Čista and Sveti duh are some of them. Beware that most beaches have little or no shade, so bring sun protection. Šimuni, Babe and some other beaches are blessed with pine trees. Meanwhile, Branicevica Gajac boasts a 300-meter sandy seabed, an affordable option for budget-conscious travellers. 
Discovering the Extravagance of Zrće Beach
No visit to Pag Island would be complete without a trip to Zrće Beach. This stunning beach is one of the most popular tourist destinations in Croatia. It is known for its crystal-clear waters and vibrant nightlife. During the day, you can relax on the beach, soak up the sun, and enjoy a variety of water sports. As the sun sets, the beach transforms into a party paradise with some of the best clubs and bars in the country.
Outdoor Activities on Pag Island
Pag Island is a paradise for outdoor enthusiasts. The island's rugged terrain and breathtaking landscapes offer endless hiking, cycling, and exploring opportunities. The island's many beaches are perfect for swimming, surfing, and other water sports. You can also take a boat tour around the island and discover hidden coves and secluded beaches.
Beaches of Pag Island

Besides Zrće Beach, Pag Island is known for its stunning beaches and crystal-clear waters that attract travellers worldwide. EVEry village or town has its beach. Here's a guide to the list of the most popular beaches you should visit during your trip to Pag Island:
Šimuni Beach is ideal for families with kids. The beach is shallow and has a sandy seabed, making it safe for children to play and swim. It also offers facilities like showers, changing rooms, and restaurants.
If you're looking for a secluded beach, Ručica Beach near Metajna is a must-visit. Located on the northern side of Pag Island, rocky cliffs surround it and offer breathtaking views of the Adriatic Sea. Amid the moonscape scenery is Beritnica Beach,  accessible only by foot or boat, making it less crowded.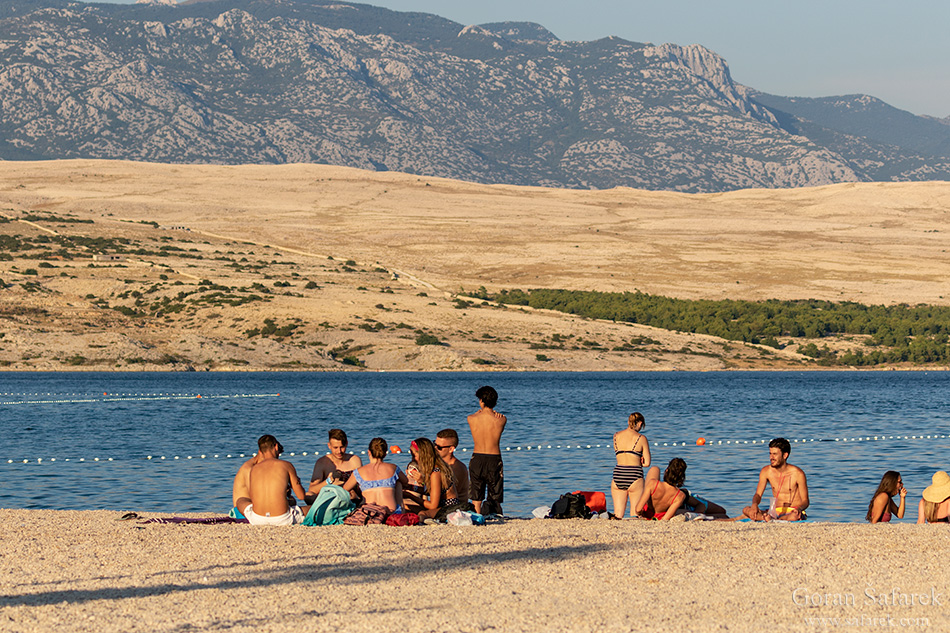 For those who love adventure, Stara Novalja Beach offers windsurfing and kitesurfing opportunities. The beach has a shallow bay and strong winds, making it ideal for these water sports. Nearby, Jadra beach is rocky and natural and a little bit further away is a new naturist beach called Trget, with no facilities.
Several beautiful beaches are along the road Novalja – Kolan, including Čista and Svetduh. Near Zrće, Caska Beach has a rich history and is known for its archaeological site. It was once a Roman settlement that got destroyed in an earthquake in the 4th century. Today, visitors can see the remains of the Roman villa and enjoy the beautiful sandy beach.
Traditional Cuisine and Dining Options
Croatian cuisine is known for its fresh ingredients, bold flavours, and hearty portions. Pag Island is no exception, and you can sample some of the best traditional Croatian dishes on the island. Some must-try dishes include lamb roasted under a bell, seafood stew, and Pag cheese from the milk of the island's famous sheep. You can also enjoy international cuisine in one of the many restaurants and cafes on the island.
Nightlife on Pag Island
Pag Island is known for its vibrant nightlife, and there is no shortage of bars, clubs, and parties on the island. Novalja and Zrće Beach are the epicentres of the island's nightlife scene, with some of the best DJs and performers in the country performing at the clubs and bars. Whether you prefer electronic music, hip-hop, or pop, you will find something to suit your taste on the island.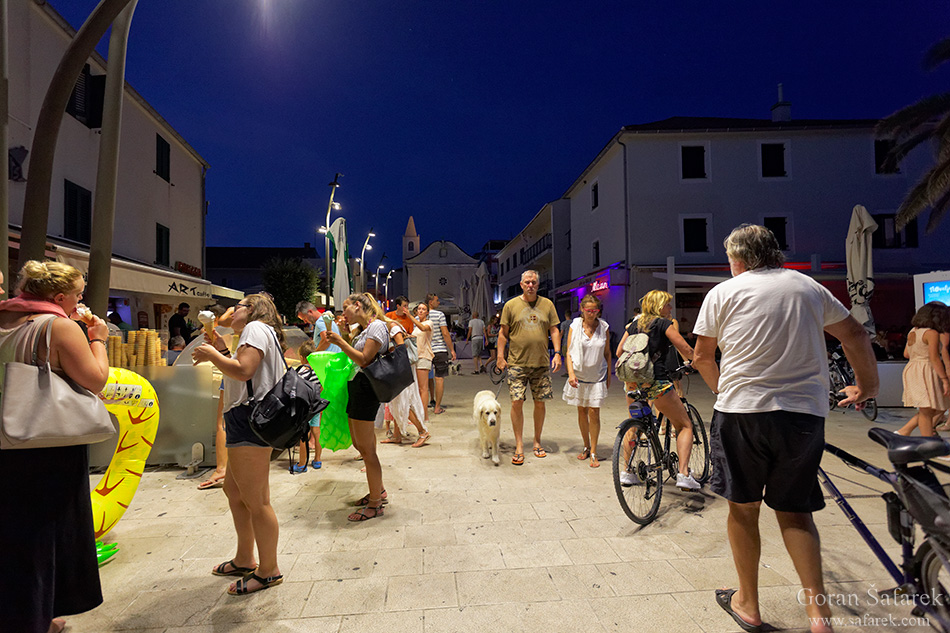 Best Time to Visit Pag Island
The best time to visit Pag Island is from May to September when the weather is warm and sunny and the island is bustling with tourists. July and August are the peak months, and the island can get crowded. If you prefer a quieter and more peaceful vacation, you can visit in May or September, when the crowds are thinner and the prices are lower. Be aware that there's little natural shade on most of the island, so be equipped with sun umbrellas. 
Conclusion: Why Pag Island Should be on Your Travel Bucket List
Pag Island is a must-visit destination for any traveller who loves natural beauty, rich culture, and vibrant nightlife. The island's stunning beaches, delicious cuisine, and endless outdoor activities make it a perfect vacation spot for families, couples, and solo travellers alike. Pag Island is a true gem of the Adriatic Sea with its rich history, charming towns, and stunning landscapes. So, add Pag Island to your travel bucket list and experience the magic of this beautiful island for yourself!
Goran Šafarek, biologist, and author of several books and films about Croatia. Don't forget to follow us on our Instagram, Twitter and Facebook
GALLERY