Croatia is a summer paradise for nudists. Mediterranean climate with crystal clear warm sea are hard to resist and the local people on the coast are very open to this lifestyle in designated beaches and camps. There are a number of official FKK (nudist) the beaches where you can stay naked for days.
Croatia has more than 1.777 km long mainland coastline and 1246 islands so everybody can find its part of the heaven. The Adriatic coast is friendly to naturists and nudists and it's a trendy destination for FKK lifestyle. Topless on a regular beach (textile) is rarely frowned upon. FKK is a designation for official nudist beaches and camps.
See our Guide to nudist camps in Croatia
History of nudism
Croatia has a long history of nudism that dates from 1907 when the first official nudist beach was open in the Croatian island of Rab. The English king Edward VIII was one of the first famous nudists and made Croatia known in these circles. Because of that Croatia is the first country in Europe that started nudist tourism.
Nudism today
Today, Croatia has numerous nudist beaches, nudist camps, and resorts. All you have to do is to choose the one you like the most and enjoy. Nudists from all over the world are coming every year to enjoy naked in the Adriatic Sea. Camps are perfect for families, as they are safe from voyeurs, perverts and other nuisances. But, even if you don't stay at the camp, you can still practice nudism. The Rab island is famous for its nudist beaches, but there are no dedicated camps.
We don't advise to remove all your clothes on public textile beaches, especially in villages or towns. Topless is fine, however. Usually, just go to the next bay and you will find a more private place.
See some articles that will clarify some things about nudism, in Croatian environment: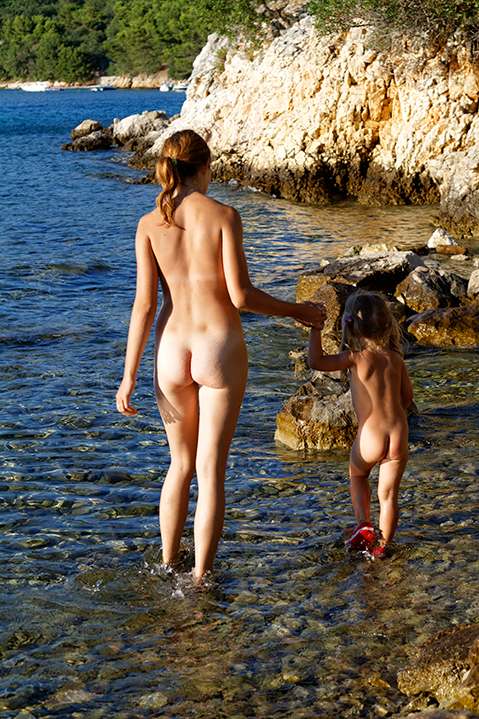 Nudist beaches:
ISTRA
Istra is very liberal place, especially around Rovinj, with many FKK camps as well:
Ladin Gaj – Umag; rocky beach
Ladin Gaj beach is located about 8 kilometers south of Umag, in a beautiful cove near Karigador. The beach can be reached by following an amazing promenade which was fully rebuilt in 2005. Ladin Gaj is a beach that was awarded a Blue flag because of its rich contents, as well as the quality and purity of the sea. The sea is reachable by stairs and the beach itself is rocky with paved parts. The Southern part of the Ladin Gaj beach is intended for naturists.
Moj Mir – Savudrija; pebble beach with larger rock fragments
One of the most popular beaches in Savudrija is the Moj Mir beach.
Moj Mir beach is a pebble beach with a partially rocky area. It is suitable for families with children, people with disabilities and the elderly, and there is also a part of the beach for naturists.
Red Island – Rovinj; rocky beach with larger rock fragments
It is one of the most famous beaches around Rovinj.  The Red island consists of two artificially linked islands, the Maskin Island and the St. Andrew Island. Maskin's indented coast is dotted with rocky coves and paths that wind through the pines making it beautiful for walking. Even though not an "official" naturist site, the secluded coves are perfect for getting that all-over tan. Although there was once an official naturist site (FKK) that attracted many gays, now the naturism is unofficial and largely heterosexual. A pair of rubber shoes comes in handy for getting into the crystal-clear water.
Rt Babo – Rovinj; beach with large rock fragments.
The cape Babo beach is 5 km away from Rovinj and is on the way to the city of Pula. The beach is wild and somewhat unavailable by car. It is not possible to park right next to the beach but by walking through the forest paths you can reach it.
It is ideal for those who want to enjoy the sea and the sun away from the crowds and does not mind the lack of sanitary, sports or gastro content. That's why we advise you to take with you everything you need: from food to games and sun protection. However, for those wishing to have fun, within the campsite VeStar, which is 15 minutes walk from cape Babo beach, there is plenty of fun sports content.
Beaches on the cape Babo are predominantly rocky with difficult access to the sea so they are not recommended for small children, although there are more accessible beaches as well. If you bring everything you need, the beaches on cape Babo are ideal for a whole day's stay. In addition, they are ideal for naturists since everyone can find a corner for themselves, hidden from the curious public eyes.
Veštar – Rovinj; sandy and pebble beach
The Vestar beach is a pebble beach located in a protected bay 5 km from the center of Rovinj. This 700m long beach was awarded the Blue Flag as a symbol of beauty and purity of sea and quality of service.
The Vestar Beach is especially interesting for families with small children because one part of the beach in the middle of the bay has a very shallow sea entrance and it takes about 50 meters to walk on the sandy bottom where you can actually swim. It is therefore ideal for children who love to play in the shallow sea as well as for the non-swimmers. The northern part of the beach is pebble and reserved for naturists, while on the south, rocky part, it is possible to sunbathe and try fishing as well. The rescue service watches after all visitors so everyone can feel safe. On one part of the beach, it is also allowed to bring your pets.

Uvala Guštinja – Rovinj; pebble beach
The pebble beach of Gustina is located in the bay under the same name, 7 km south of Rovinj. Access to the beach is possible by car, although due to the difficult macadam road behind the Vestar campsite and the inability to park right next to the beach it is recommended to come by boat. Beach cove Gustinja is a wild, pristine beach with crystal clear waters. It is ideal for those who want to fully relax and enjoy the sun and the sea far away from the city crowds. Since it is not well connected with traffic, there is no crowd in the bay which is beneficial to naturists. Since there is not much natural shade, we recommend taking a tent or a parasol and a sun protection cream with a protective factor. Also, bring your head cover, refreshing fluids, and some food. What makes the cove Gustina beach special is the rich underwater life, so diving lovers will surely enjoy exploring all the underwater areas.
Sol Polynesia – Umag; pebble and rocky beach
Sol Polynesia beach is located only 2 km from the town of Umag, more precisely in the Katoro village. The beach contains pebble, stone and sandy parts. One part of the Sol Polynesia beach is intended for nudists. That part of the beach is grassy with rocky parts here and there and is separated by a pine tree forest which offers shade under which you can hide from the intensive sunlight. The beaches in Umag are well maintained, with a long nudist tradition. All nudists will feel pleasant and comfortable here. Family nudism is very popular here. For years Umag has been one of the most popular destinations which offer nudist lifestyle and vacation.
KVARNER
Kvarner, the Adriatic coast of Rijeka and  Opatija Riviera with islands of Krk, Cres and Lošinj is another very liberal place for nudists.

Jablanova – Baška; pebble beach
The Jablanova beach is located in Baska on the island of Krk, and because of the lack of services, it is advisable for the adventurers. There are no restaurants, toilets or showers on the beach, there is only one smaller bar, so we recommend you to bring enough food for the whole. This idyllic beach, although not officially FKK beach, is a favorite place for naturalists, people can freely wear a swimsuit.
Storišće – Baška; pebble beach.
The Storisce beach is an idyllic bay on the island of Krk, isolated and mystical, away from the civilization. There is no service on the beach and it is a favorite destination for all people looking for peace and quiet. This beach can be visited by nudists although it is not officially FKK beach. The access to the beach is difficult because of the winding and steep path so you must bring tighter footwear, mountain shoes, as you will walk on the rocky ground. You can reach the beach by car which you can park in the parking lot 1 km away and then continue on foot. The beach is not crowded and is rich in the clear sea, untouched pristine nature and beautiful views.
RAB ISLAND

Rab island has a special place in Croatian naturism and nudism scene. This island of is rightly referred to as the pioneer of naturism on the Adriatic. The month of August 1936 is frequently mentioned as the official beginning of naturism in Rab when the English king Edward VIII stayed there and the Rab authorities allowed him and his wife to take a nude swim in the bay of Kandarola. However, it is certain that naturism on the island started long before that. The article "Trade in nakedness", published in the Austrian economic journal "Trend" no. 11/83 reports that the naturist beach in Rab was officially opened as early as at the transition to this century and that 50 beds in the hotels were reserved for naturists. Kandarola isn't the only one. Sandy peninsula of Lopar is a naturist heaven with one of the most famous and beautiful nudist beaches in Croatia: Ciganka, Stolac, and Sahara.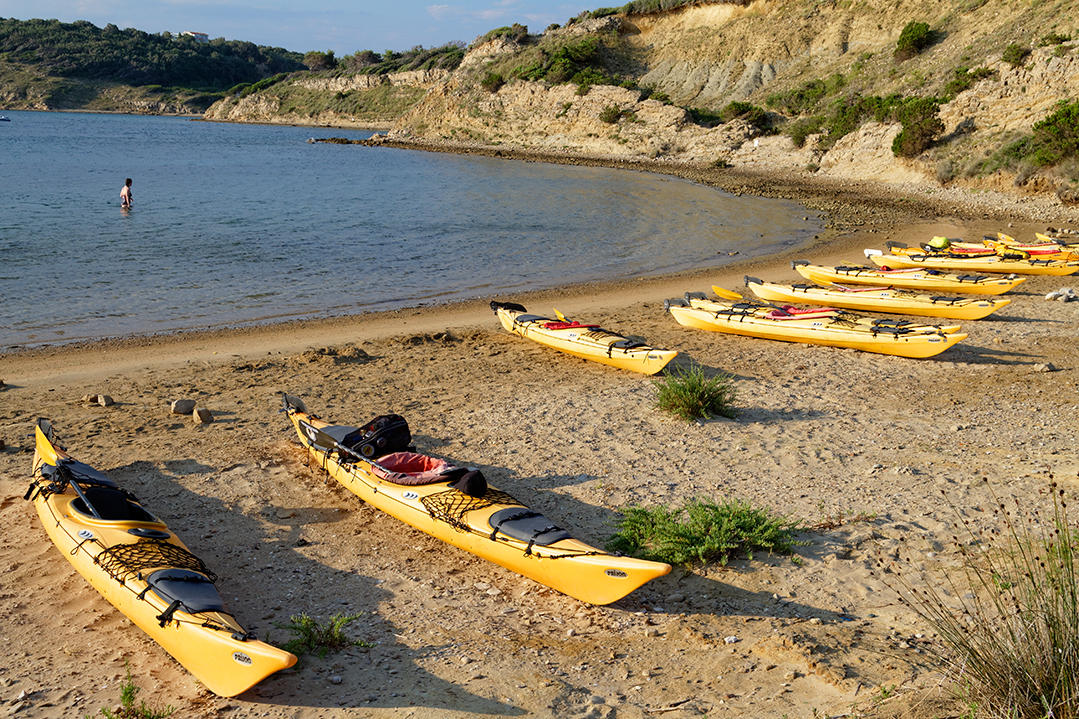 Ciganka – Lopar; sandy beach
One of the 3 naturist sandy beaches in Lopar facing north is very peculiar due to the strange sandy pyramids and other naturally formed shapes. The sea is emerald green and you get to choose sand or rock plateaus for your sunbathing. Ciganka (gypsy woman) can be reached on foot or in a car that you can park in the nearby pine forest. There is a dog beach nearby.
Sahara – Lopar; sandy beach
A 30-minute walk from Rajska plaža you get to Sahara, a beautiful sandy beach. Not the desert, but the most famous naturist beach in Lopar. It is not far, yet it is far enough should you desire a little bit of peace and quiet on your vacation. Bear in mind that there are no facilities of any kind on this beach, so you better bring your own picnic (or at least some drinking water). Between Sahara and Stolac beaches there is a dog beach in a tiny bay called Pod pećine.
Stolac – Lopar, the island of Rab; sandy and rocky beach
Hidden away in pristine nature, Stolac beach is where you go for a bit of privacy on your own piece of rock or patch of sand. Perfect for naturists, only 10-minutes away from San Marino hotel village, it is exclusively FKK – no bathing suits are allowed!
Kandarola – Rab; Rocky and pebble beach
Well known as a destination for people that prefer their holidays without the restraints of clothes, the island of Rab has one of the oldest naturist beaches in the world, where a certain king Edward the VIII and Walis Simpson took a skinny dip. Kandarola beach is easily reached by taxi boats from Rab or Palit and you can drive there too. Beach facilities include a restaurant, deck chair, and parasol rentals and of course, showers and toilets. There is a dog beach as well.
PAG ISLAND

Sveti Duh – near Novalja; sandy and pebble beach.
Near the camp Sveti Duh that is not formally nudist camp, but the nudist beach is part of the camp and they are friendly to nudism.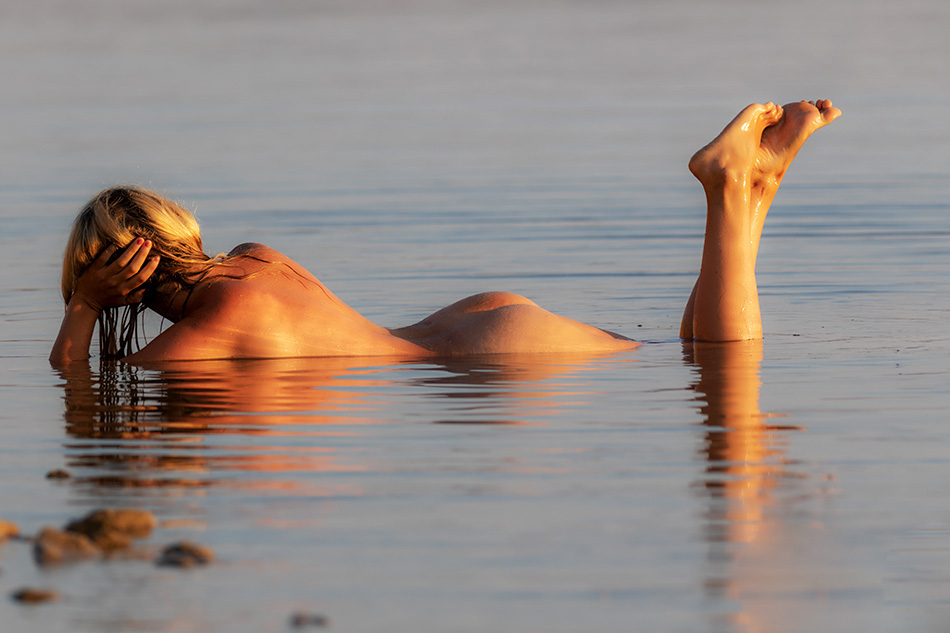 Šimuni – Šimuni ; rocky and pebble
Simuni beach is situated in a small village under the same name on the island of Pag. The beach is pebbly and is ideal for family vacations. It can be reached by car, but from the parking lot to the beach there are several minutes on foot. At the end of this beach, you can swim naked. This is not an official FKK beach, but naturist lovers can enjoy privacy far from curious views here.
STRAŠKO: on Pag island is no longer naturist camp and beach.
CENTRAL DALMATIA

Dalmatia is more traditional than Istra, Kvarner, and Rab, but nevertheless, it offers good possibilities for nudism.
Kozarica – Pakoštane, rocky beach, pebble
Kozarice Beach is located in a thick pine forest on the western side of Pakoštane near the Kozarice camp in Pakoštane. One part of the beach is intended for naturists, and it is the better part. The beach is easily accessible – just follow the road from Pakoštanein the direction of the camp. There are no facilities, only the table, but the parking and the camp is just 5 minutes walk.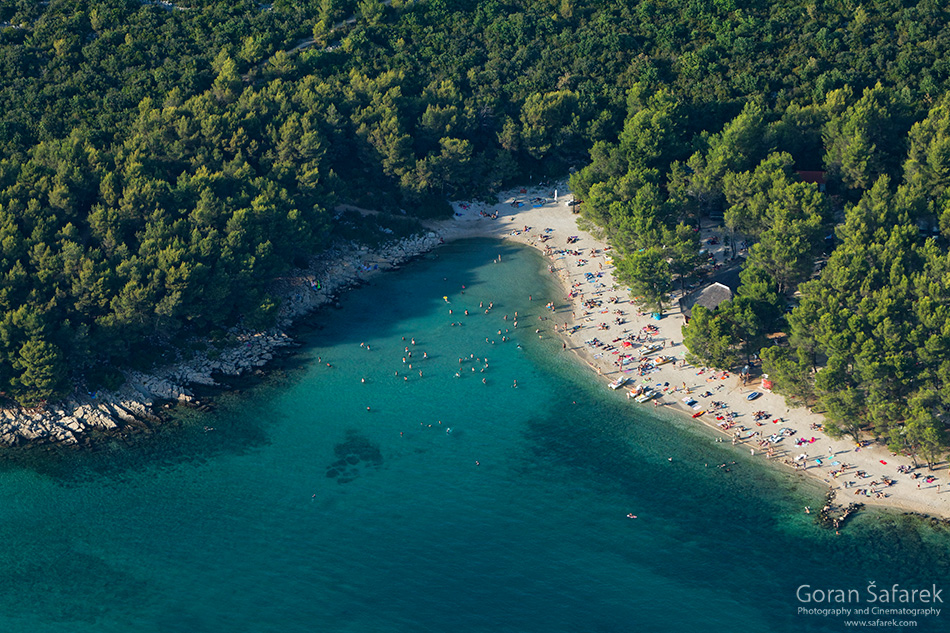 MURTER
Murter is another good place for clothing-free basking and skinny dipping.
Iza Andrije – Tisno, rocky beach
Iza Andrije beach is located on the edge of Tisno. It was named after the church of St. Andrew, behind which it is located. It was pronounced the most popular nudist beaches in Croatia. The beach is rocky with blocks of concrete where you can sunbathe and enjoy your vacation. In the background of the beach, there is a pine tree forest.
Kosirina – rocky beach
The campsite is a textile camping site with two sandy beaches, one of which is for reserved for naturist, whilst its coastline is about 400 meters long with a view of the island of Kornati.
OMIŠ
Vrulja – Pisak (Omiš) pebble beach
Vrulja beach is located near the beautiful resort Brela on the Makarska Riviera. Vrulja is surrounded with awry and high cliffs because of which it is not easily approached. It is best to come to the beach by boat from Brela. Those who do not want to spend the whole day in the sun can enjoy in the shade beautiful tall pines and other Mediterranean plants provide you with. The Vrulja Beach is favorite among tourists and the local people, with a part of the beach intended for nudists. The beach is pebbly and the sea is crystal clear and a little cooler due to many sources. The beach is ideal for romantic couples and families with small children.
MAKARSKA RIVIJERA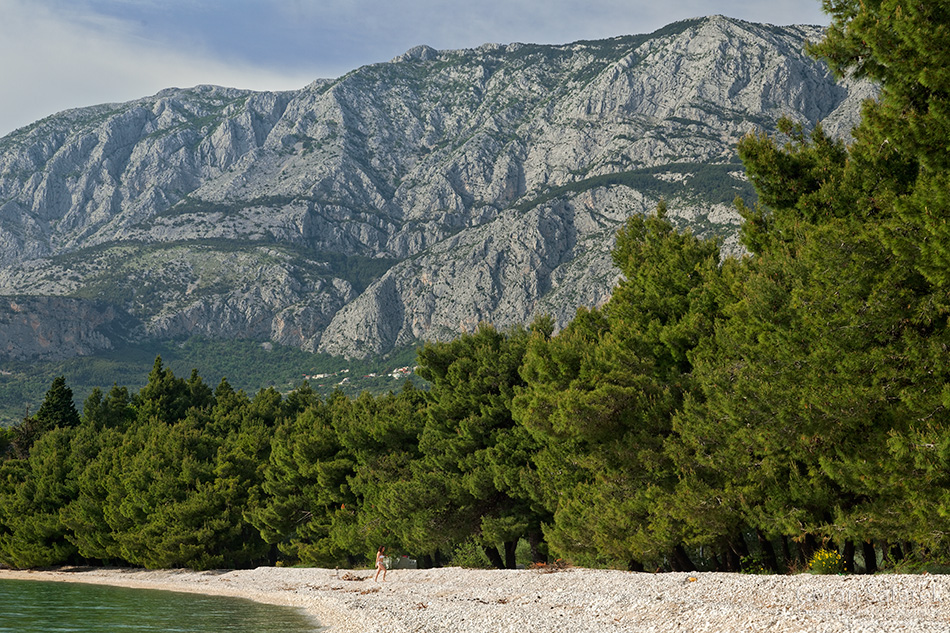 Makarska Riviera below the mighty Biokovo Mountain is a very popular summer destination, with luxury hotels and apartments, great rocky and pebble beaches. It is also very open to naturists.
Nugal – Tučepi; pebble beach
Nugal beach is another beach located near Makarska. Its unique beauty makes it the perfect choice for those who practice nudist tourism. This popular nudist beach is located near Tucepi. The wonderful Nugal beach, situated beneath steep cliffs, can be reached by lowering down through the mesmerizing dense forest – Park Osejava which stretches for 3 km from Makarska towards Tucepi. Nugal beach is the nudist paradise because it offers privacy. They can enjoy peace and quiet and, hidden from everyone, relish the summer and clean sea.
Cvitačka – Makarska; pebblebeach with larger rock fragments
Cvitacka Beach is 2.5 km far from the center of Makarska, in the direction of Split, and consists of several small beaches separated by rocks and two bigger beaches. The total length of all beaches is 1km all together, and on this beach, the nudist beach Cvitacka continues. There is a parking lot near the beach that has to be paid. From the nearby parking lot to the beach you will have to walk for a few minutes. Large beaches can be easily reached on foot, by bicycle or scooter, on a wide macadam road. Smaller beaches are accessible by the stone stairs or narrow macadam paths.
Dračevac – Podgora (Makarska); pebble beach
The Dracevac beach is a well-known nudist beach located 1 km north of the center of Podgora, in the direction of Makarska. This beautiful pebble beach is 400 meters long and is set in seclusion. Surrounded by dense pine forests that create shade and protects swimmers from curious views from the road above the beach. It is ideal for couples and lovers looking for privacy, idyllic nature and peaceful surroundings.
The second part of the beach is completely isolated and there is no content on it. This part is adapted for naturist lovers. This beach will conquer you with the extraordinary beauty of nature and its special charm.
Garma – Podgora; pebble beach
At the entrance to Podgora, when you leave Makarska, the beach of Garma is located. Made of several smaller beaches separated by rocks, this beach is ideal for nature lovers and naturists. Access to the beach in a simple, well-defined macadam pathway takes you only a few minutes from the parking lot to the beach.
There is only one big beach where you can find a restaurant where you can relax in the shade with a delicious meal and a refreshing drink. Smaller beaches are more isolated from the views and protected by pine trees surrounding them and at the same time creating the most necessary shade.
Iza Klobuka – Zaostrog ; pebble beach
The beach of Iza Klobuka stretches from the edge of the inhabited part of Zaostro to the beach of Lucica, in the area of about 500 m. It consists of a lot of smaller beaches and bays separated by rocks and stones. All these beaches are pebble beaches and ideal for a relaxing holiday without a lot of content. Although it is not an official FKK beach, the beach of Iza Klobuka is often a destination of naturists for its secrecy and isolation. Surrounded by pine forests and rocks it gives the visitors the well-deserved and needed peace and isolation.
Klokun – Podgora ; pebble beach
Near Podgora, in small places called Igrane you will find an idyllic beach called the Klokun beach. It is possible to reach this pebble bay only by boat, so peace and escape from the reality are guaranteed.
The small gravel bay, surrounded by rocks and stones, is ideal for all lovers of true, untouched nature. The pine forests surrounding the beach create shade and serve as a sun protection for hot summer days. The beautiful pebbles and the pure, clear sea are the perfect combinations that will delight you.
Although not officially proclaimed a nudist beach, Klokun beach is known among nature lovers as one of the most beautiful hidden beaches on the Makarska Riviera. Protected from the views, this hidden bay is a real choice for all romantics and nature lovers.
Krvavica – Baška Voda; pebble beach
Krvavica Beach is located in a small town Krvavica, near the popular tourist destinations of Makarska and Baska Voda. Right next to the beach there is a camp and the port Ramova. Krvavica beach can be reached by car, and there is a paid parking lot near the beach. It is also possible to reach the beach on foot from Makarska and Baska voda. The promenade that goes along the coast from Krvavica continues to the famous tourist destination of Brela. Makarska can be reached by a small narrow macadam pathway passing over the FKK beaches in Krvavica and Makarska.
HVAR ISLAND

This island is true Dalmatia, with preserved nature and impressive cultural heritage. There is one FKK camp, Nudist near Vrboska and several nudist beaches.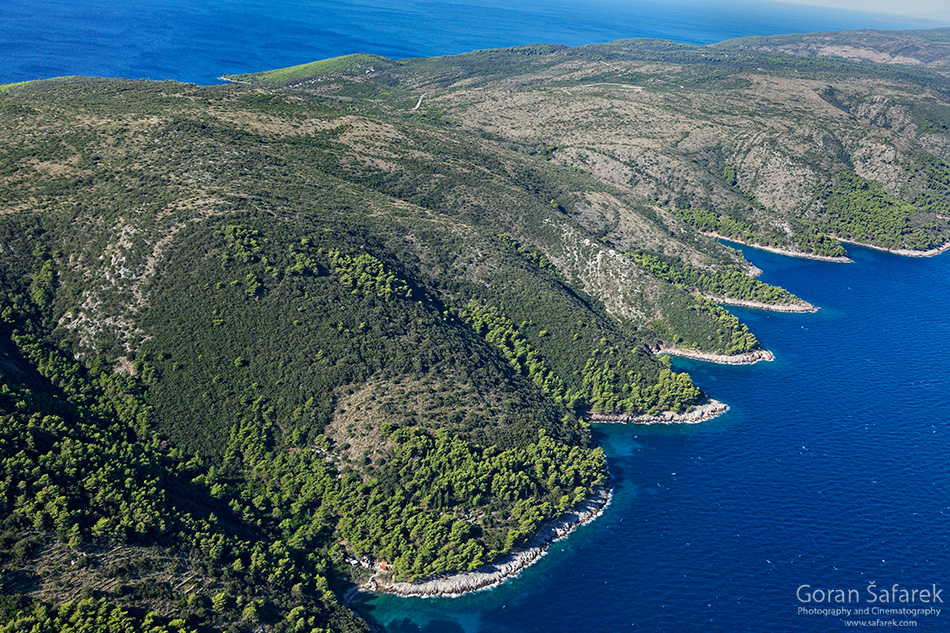 Jerolim – Paklinski otoci; rocky beach
Beach Jerolim is located on one of the most beautiful islands of the Adriatic – Pakleni otoci (Hell islands) and has been listed among the 15 best nudist beaches in the world. Jerolim Beach is a place of pristine nature, rocky shores and crystal clear waters ideal for those who like to swim naked far from the crowd. Behind the beach, there is a forest of pine trees which provide shade during the great heat of summer. There is a restaurant on the island of Jerolim which is near the beach, where you can enjoy a variety of Dalmatian specialties. The beach Jerolim can be reached by a private boat or a taxi boat from Hvar in only 20 minutes.
Mekićevica – Hvar town; pebble beach with larger rock fragments
Mekicevica beach is located near the town of Hvar. This romantic gravel bay can be reached by boat from the seaside or on foot from the town of Hvar. If you decide to go on foot, prepare yourself for half an hour of easy walk to the cove, through the macadam and the coastal area. This beautiful, hidden beach consists of two strands and a white stone shore, which in touch with the turquoise sea creates an idyllic sight. Lovers of beautiful nature, romantics and naturists can find an ideal place for themselves here. One part of the beach is also part of the FKK beach. Naturist lovers can enjoy the contact with the intact nature here.
Stipanska – Paklinski otoci; pebble and rocky beach
Stipanska beach is a beautiful nudist beach located on one of the most beautiful islands of the Adriatic – Paklinski otoci, more precisely on the island of Marinkovac. Stipanska is a pebble and rocky beach that offers you privacy and the possibility of enjoying your vacation away from summer crowds. The beach can be reached by the taxi boat from the town of Hvar or by a private boat. Unlike many other nudist beaches, this beach is equipped with outdoor showers, a shop and an excellent restaurant that offers a variety of foods.
BRAČ ISLAND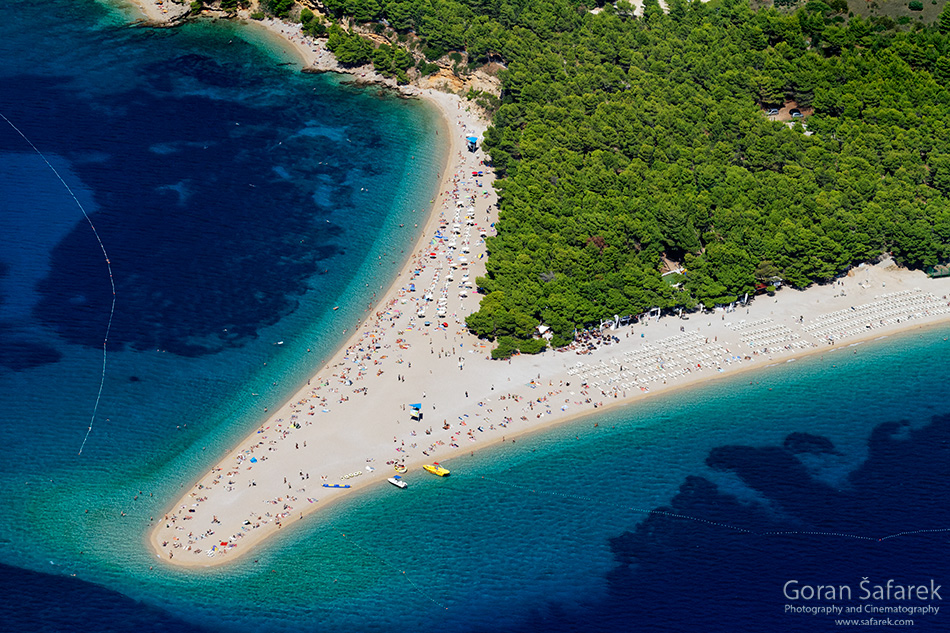 Paklina – Bol; pebble and rocky beach
Paklina Beach is located on the south side of the island of Brac near the tourist town of Bol. Paklina is a beautiful pebble nudist beach leaned on Zlatni rat. The Paklina stretches in many small beaches and rocky coves that offer you the privacy you want and a relaxation away from the crowd. In the background of the beach, there is a lush forest that provides shade during the great heat of summer. Sports fans can relax by playing volleyball, picigin and other activities, but you have to bring your props because you cannot buy or rent them on the beach.
KORČULA ISLAND

Lenga Brendana – Lumbarda; rocky beach
Lenga Brendan Beach is located not far from Lumbarda, on the island of Korcula. The beach stretches over a rocky cliff 1 km long, in the area between the famous beach Bilin Žal and Rt Ražnjić. The beach can be reached on foot, by boat, and by car, and not far from it I there is also a parking space. The approach to the beach is narrow and macadam, so we advise you to take the patio. As the coast is made of stone do not forget your sea shoes. Lenga Brendana beach is known as a naturist beach, although it is not an official FKK beach. It is surrounded by dense pine forests that create a lot of shade and hides the rocky shore from curious views. Like for naturists, it is a place for dog owners as well, even though it is not the official beach for dogs, Lenga Brendan is isolated enough to let anyone enjoy their piece without disturbing the other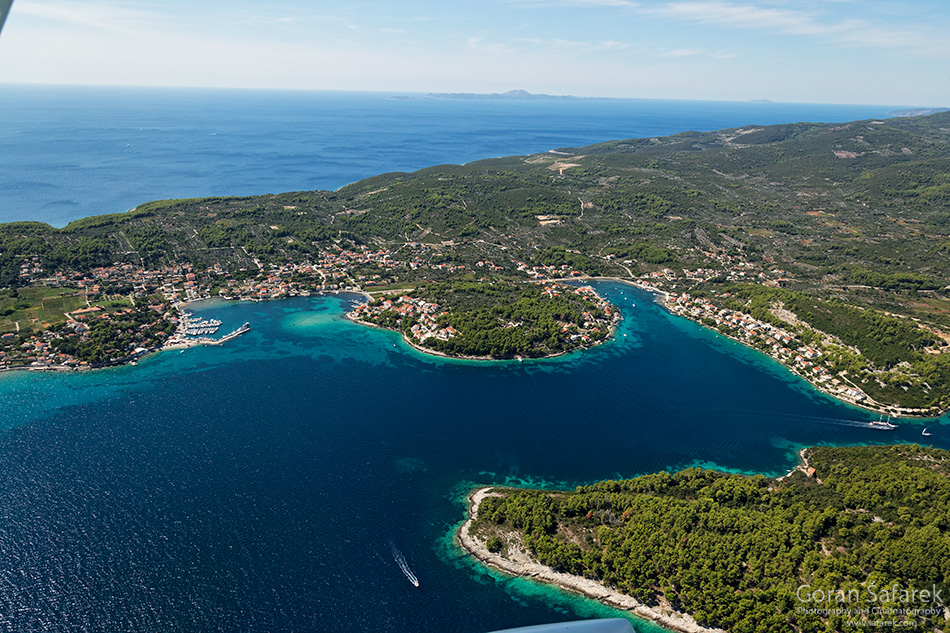 swimmers.
Prozid – Vela Luka; rocky and pebble beach
Proizd beach is located on the island of Prozid near the entrance of Vela Luka on the island of Korčula. Proizd can be reached with a private boat or with a taxi boat which starts from the center of Vela Luka. The island has a restaurant which provides its guests with Dalmatian specialties.Proizd beach is a naturist beach where you can enjoy the privacy which it provides. The coast is rocky with several pebbly areas and the sea bottom is covered with small stones which give the feeling of untouched beauty. The island is also called the Island of love.
VIS
Templuž – Komiža; rocky beach
The Templuz Beach is located not far from the town of Komiža, only 20 minutes walk from the center, and is ideal for all lovers of nature and naturism. You cannot get to the beach by land, but you have to walk through the shallow sea.
The beautiful pebbles, lush vegetation, a beach surrounded by rocks and clear sea are all you need to enjoy your vacation. There is also a source of fresh water on the beach creating a special beach experience.
This beautiful pebble beach is located in the area designated as FKK so if you are a naturist and a lover of intact nature, clean sea and beautiful pebbles, this is the right beach for you. Enjoy the unique nature during your vacation and indulge yourself in an unforgettable holiday at FKK Templuz beach.
DUBROVNIK REGION

Lokrum – Dubrovnik; rocky beach
Lokrum beach is located on an eponymous unpopulated island, one of the smallest in the southern archipelago. Lokrum belongs to the special preserve of the forest vegetation under UNESCO's protection. Except with the rich forest vegetation, this little island is adorned with a botanical garden filled with exotic plants, eucalyptus, cacti, and similar species, as well as with the remains of the 12th-century basilica, a 15th-century convent and a 19th-century summer mansion of Maksimilijan Habsburg, with gardens and parks. The island of Lokrum also holds a small salty lake suitable for children and non-swimmers. The island's shore is rocky and is popular among adrenaline junkies for acrobatic diving. Because of the privacy, they have to offer, almost every beach is of a naturist type.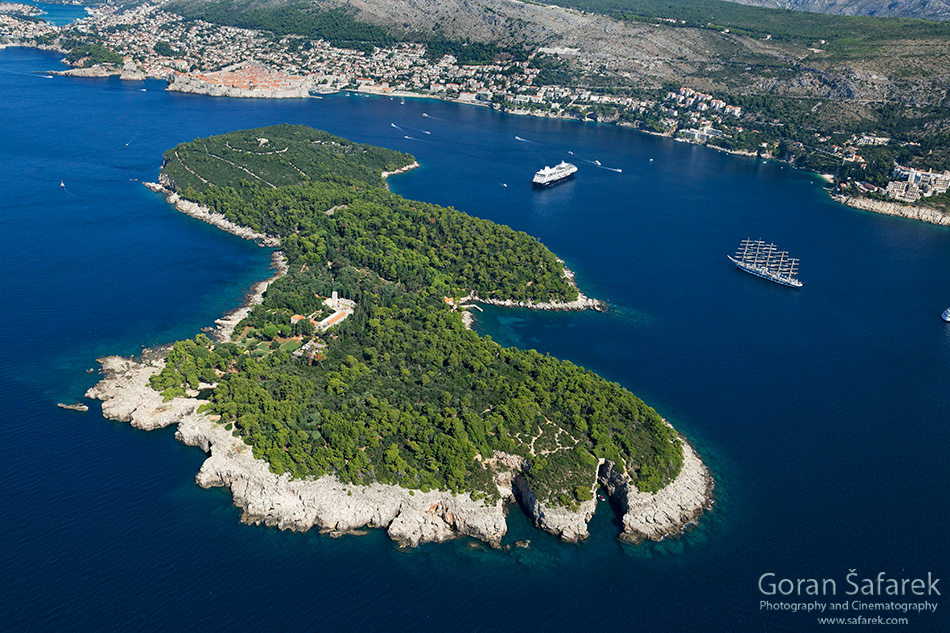 Plat – Dubrovnik; pebble beach
Plat beach is located near Dubrovnik in an area called Župa Dubrovačka between the Cavtat and Mlini settlements. It is hidden behind stones and provides total privacy, making it an oasis of peace and quiet. Plat is a naturist beach and is meant for those to wish to enjoy its privacy, but is also appropriate for singles, families with children and romantics. Its only negative side is the fact that there is no shade from the sun so the only way to refresh yourself in the hot summertime is at the nearby café and swimming in the sea.
Unofficial nudist beaches
Often, just a couple minutes away from the crowded textile beaches, you can find unofficial nudist beaches. Usually, it is the case of the separated alcoves. Even textile people are tolerant. There can sometimes be a couple of people wearing swimming suits, all the other people are enjoying there naked, free and happy. This is not something unusual in Croatia. I would rather say it is an unwritten rule in the entire Adriatic coastline. There are textile beaches that are usually crowded, but if you just take a little walk to the next alcove, you will find beaches like this one. Unlike town beaches that are not only crowded but also cemented, these natural beaches are more beautiful, less crowded and perfect for taking off all your clothes and dive into the sea.
Kamenjak is one of such examples. It's is the southernmost cape of Croatian biggest peninsula – Istria. Kamenjak is a protected nature reserve for its exceptional natural beauty that includes wild scenes of untouched nature where you can encounter last habitats of various plant and animal species on the planet! Idyllic beaches are mixed with wild coastline in the shade of the pine trees, crystal clear blue sea, pebble bays, high cliffs, and hidden caves. It is, therefore, the perfect setting for nature lovers. And naturism lovers. It is not official naturist beach, but just as in many places on Croatian Adriatic, naturism is tolerated. Just go from the crowd, and get rid of those pesky textiles! The flat, smooth rocks are usually the best. During the heat peak, just go to the forest behind and in deep shade, with the pine fragrance and hypnotical orchestra of cycads…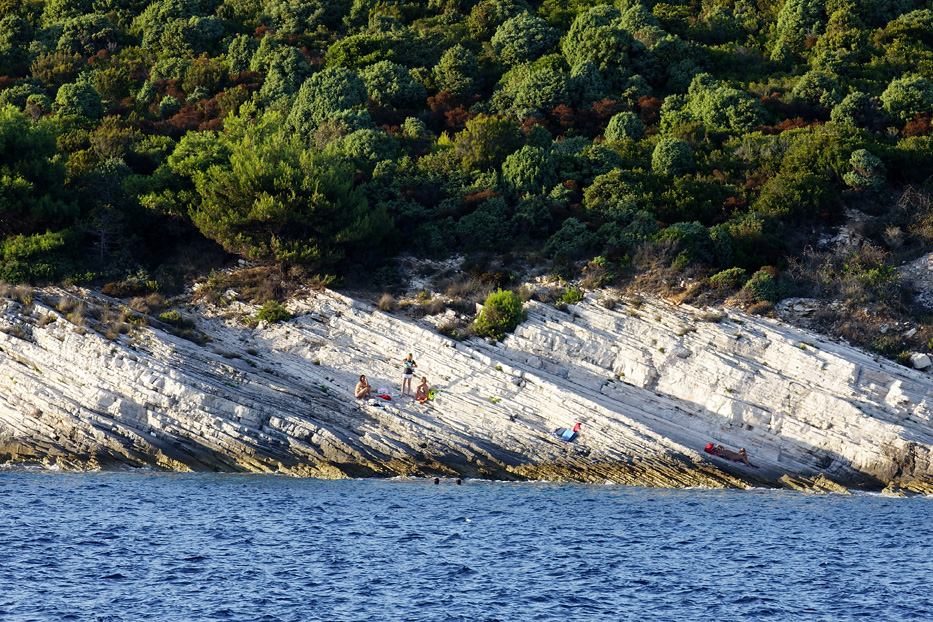 Nudism on the continent

By law, only official beaches and camps are suitable for nudists. However, there are many natural places where there are no people, or they don't care much about it. The rivers are obvious places for that. Don't do in the cities any on public places or beaches, but you can find your own, hidden spot.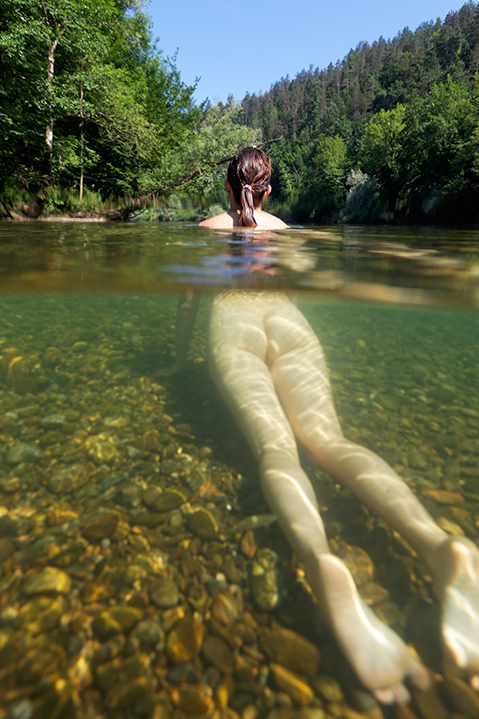 Post written by Naturist Girl, check her Instagram and blog.