Croatia is a summer paradise for nudists. Mediterranean climate with crystal clear warm sea are hard to resist and the local people on the coast are quite open to this lifestyle in designated beaches and camps. There are a number of official FKK (nudist) the camps where you can stay naked for days.
Croatia has more than 1.777 km long mainland coastline and 1246 islands so everybody can find its part of the heaven. The Adriatic coast is friendly to naturists and nudists and it's a trendy destination for FKK lifestyle. Topless on a regular beach (textile) is a common thing. FKK is a designation for official nudist beaches and camps.
See our Guide to nudist beaches in Croatia
History of nudism
Croatia has a long history of nudism that dates from 1907 when the first official nudist beach was open in the Croatian island of Rab. The English king Edward VIII was one of the first famous nudists and made Croatia known in these circles. Because of that Croatia is the first country in Europe that started nudist tourism.
Nudism today
Today, Croatia has numerous nudist beaches, nudist camps, and resorts. All you have to do is to choose the one you like the most and enjoy. Nudists from all over the world are coming every year to enjoy naked in the Adriatic Sea. Camps are perfect for families, as they are safe from voyeurs, perverts and other nuisances.
See some articles that will clarify some things about nudism, in Croatian environment:
Nudist camps
We can divide camps into three different regions: Istria (Istra), Kvarner bay and Dalmatia. The camps in Istria are the most urbanized and developed and the most expensive. They are often small towns, with lots of infrastructures, but at the price of nature. The beaches are mostly artificial – easily accessed, but often without shade and nature. The camps in Kvarner (mostly islands of Cres and Krk) are more natural, smaller with fewer facilities, less expensive. Dalmatian camps are the least developed the smallest, the cheapest and the most natural.
Istra:
ISTRA SUNNY CAMPING
3 stars campsite, located near the fishing village of Funtana just 6km from Poreč is dedicated only to naturists.
The three-star naturist camp Istra has during the last several years been acknowledged as one of Croatia's best campsites as well as having been awarded ADAC and BNV certificates. Located close to the fishing village of Funtana, 6 kilometers south of Poreč in Istria, the camp can accommodate up to 3,000 guests. Accommodation options include 13 mobile homes and a number of spacious camping plots which benefit from the shade provided by holly oaks, as well as a view of the small islands that the camp's coastline faces. This naturist camping site has a 1,000 meter long beach with a number of sunbathing areas being available. Facilities include 3 restaurants and a shop as well as a sports center, four tennis courts and a children's playground. Diving lessons are available as well as beach volleyball facilities.
KOVERSADA:
3 stars campsite, this camp with probably the longest naturist tradition in Europe is located 2km from Vrsar and dedicated only to naturists.
This is the biggest and the most known FKK camp in Croatia. The camp can accommodate up to 5,000 guests and covers an area of almost 1 million square meters, in a quiet setting featuring 1,000 olive trees and other Mediterranean foliage. Linked to the campsite by a bridge is a small island which is part of the campsite and is reserved for tent camping. The island is considered to be the birthplace of naturism. With a five kilometer shoreline composed of stone and pebble beaches, the camp also offers two sandy beaches especially for children, as well as a series of entertainment programmes such as the Miss Koversada beauty pageant and themed entertainment programmes with live music. Recreational sports activities include tennis, basketball, 5-a-side football, handball, beach volleyball and numerous water sports.
SOLARIS CAMPING RESORT
3 stars campsite, located in Tar Vabriga only 2km from Poreč in Istria, dedicated only to naturists.
Naturist Resort Solaris is a three-star campsite in Tar Vabriga, 12 kilometres from Poreč in Istria, and is one of the most popular naturist campsites in the region. Winner of a number of ADAC Yellow Board awards over the last few years, Solaris is part of the naturist complex of the same name situated on the Lanterna peninsula. With a range of apartments and pavilions set in woodland, many of the campsite's shady and spacious camping plots are arranged by the sea. Guests have at their disposal 2.5 kilometres of mostly stone shoreline dotted with a number of small pebble or grass-covered coves and walled sunbathing areas. A feature of the camp is its children's entertainment programme, as well as its varied sports programme, which includes a water sports centre including windsurfing, sailing and diving, 8 tennis courts, miniature golf, table tennis, swimming in the campsite's outdoor freshwater pool and other activities. Evening entertainment featuring folklore, dancing parties and events is regularly organized, whilst a wide variety of local and regional cuisine can be explored at the camp's restaurants.
ULIKA
4 stars campsite, located 8km north of Poreč, Istria this campsite is only for naturists.
The four-star naturist campsite, camp Ulika, offers its guests all the modern conveniences possible. Located on a peninsula that is 8kilometerss north of Poreč in Istria, it has been recognized as one of Croatia's Best Campsites and is unique for the large number of holly oak trees covering the area it is situated on. Accommodating 3,000 guests, most of the camp is divided into plots ranging between 80 and 160 square metres, most of them under the shade of aged trees, with a separate section reserved for guests with pets. The camp's 2.5-kilometre-long shoreline consists of pebble and stone beaches with concreted sunbathing areas. On-site, the camp has several restaurants, grills, bars, souvenir and newspaper shops, together with a dance terrace and a supermarket. For recreation, the camp offers its guests outdoor fresh-water swimming pools, tennis, table tennis, mini golf, bicycles, windsurfing, boat hire and trips, and beach volleyball. A specialist children's entertainment programme is organised, consisting of creative workshops and games, together with evening events.
VALALTA
3 stars campsite, located 7km from the center of Rovinj, Istria, dedicated only to naturists.
The receiver of many awards, and the best to many, the Valalta Naturist Camp was established at the end of the 1960s on the tame slopes stretching along the northern coast of Rovinj and during its existence, the camp's name, Valalta, has become a synonym of unquestionable quality among lovers of this sensitive tourism branch. It is possible to stay in bungalows, apartments, mobile homes, spacious camping plots with modern sanitary facilities,a small harbour with accompanying services. Here you can enjoy local and international culinary specialities, interesting entertainment programmes, attractive excursions by boat or bus, and various additional facilities: a grocery store, fresh fruit and vegetable stall, clothes shop, beach equipment shops, an Internet point, fitness room, vital centre, sauna, hair and beauty salon, a kiosk with daily newspapers from around the world, a pharmacy and specialised polyclinic ''Valalta'' that provides professional medical services. Unfortunately, pets are not allowed.
KANEGRA
4 stars campsite, located 10km from the Umag, Istria, dedicated only to naturists.
CampingIN Kanegra FKK Umag is a small four-star-naturist campsite located 10 kilometres from Umag in Istria. The camp has been the recipient of the ADAC Yellow Board, Tourist Flower – Quality for Croatia award and recognized as one of Croatia's Best Camps. Accommodating up to 600 guests on 194 camp pitches, the campsite also offers 233 bungalows (the bungalows are located outside the FKK zone). For recreation, guests can choose from a wide variety of pastimes, from lounging on the camp's pebble beach to taking part in volleyball, basketball, soccer and handball. There is an additional charge for the use of tennis courts and water sports such as banana boat rides, pedal boats, beach canoes and jet-skis, as well as for table tennis, mini golf and use of rental bicycles. A regular evening entertainment program is provided, featuring live music, themed entertainment events, sports competitions and DJ music. There's also Mini Club for children aged 5 to 12 (in July and August) and disco. The camp's a la carte restaurant, pizzeria and coffee bar complement this large range of activities.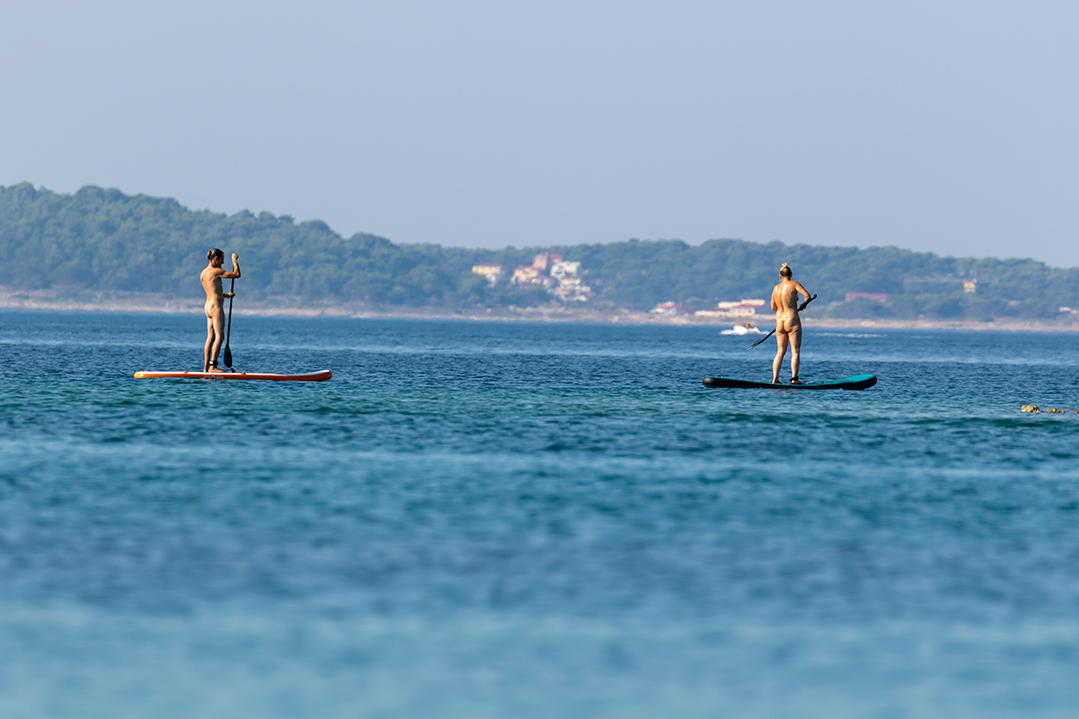 Kvarner
KONOBE:
2 stars campsite, located only 3km from Punat, the island of Krk, is dedicated only to naturists.
OUR TOP PICK!
In the shadow on the natural pine and oak trees, exclusively designed for naturists, camp Konobe is situated only 3 kilometres from Punat, one of Croatia's leading nautical tourism centres, and located on the island of Krk. The campsite has been active for almost half a century and has been awarded the ANWB quality and environmental Eco Plus awards. With over 400 camping units, camp Konobe can accommodate 1,200 guests. Along its 1,500 metre coastline, two larger pebble beaches equipped with showers can be found, as well as many secluded white beaches. During July and August, children's workshops are organised, whilst a playground and a playroom complement these events. Daytime activities for adults include morning workouts, mini-golf, table tennis, tennis, volleyball, scooter rental, pedalo, and boat rental. In addition, a diving centre is located three kilometres from the campsite, as is Punat's Marina, where yachts and sailboats can be rented. There is also a three-kilometre-long promenade leading to Punat from the camp.
BUNCULUKA
4 stars campsite in Baška, the island of Krk, camping Bunculuka is dedicated only to naturists.
The attractive location is just one of the assets belonging to the multi-award-winning naturist campsite Bunculuka. Located in Baška, on the south-eastern side of the island of Krk, camp Bunculuka is located opposite the island of Prvić. Bunculuka is on a terraced terrain sloping towards the 1,800 meters long pebbly beach. It occupies a very attractive location on the island of Krk, offering comfortable pitches, half surrounded by pine trees, Spanish broom and acacia. The camp has a playground for children, various sports grounds and entertainment facilities. Sanitary facilities, a store and a restaurant are available, too. The town of Krk is approximately 20 kilometres from Baška. The Baška Valley offers numerous hiking and bike trails.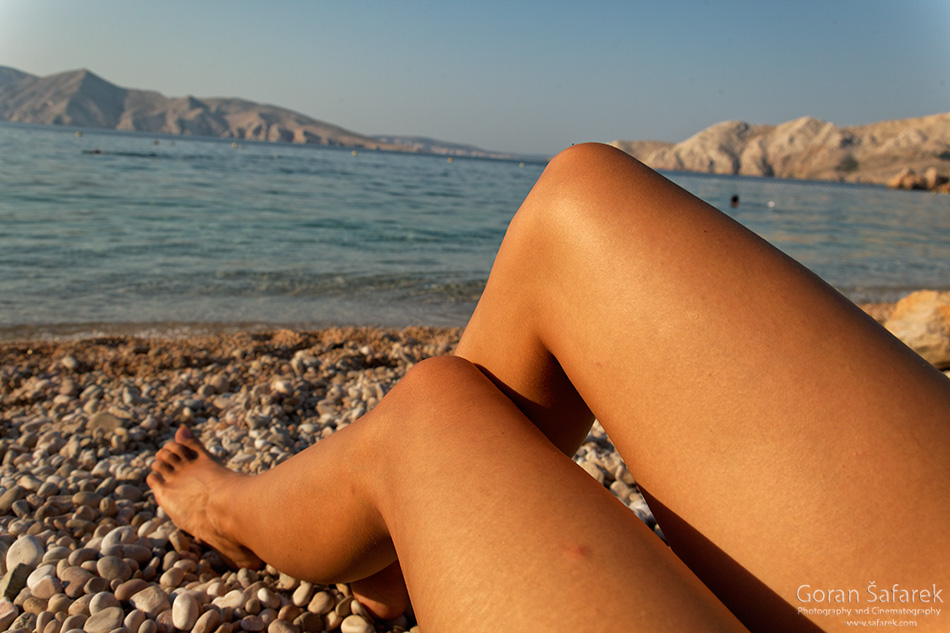 BALDARIN
3 stars campsite, situated in Punta Križa, the island of Cres camping Baldarin, is a combined textile and nudist camp, but most of the camp is dedicated to nudists.
OUR TOP PICK!
Relatively remote, located near Lošinj island in a peaceful bay, Baldarin is a natural gem. It is the largest and the most famous naturist campsite on the island, 15 kilometres from Osor and the main island road, in a thick Mediterranean forest next to the 2 kilometres long rocky coastline. Baldarin is known for its maritime zone, which is believed to be home to 150 dolphins. A part of the campsite at the entrance is reserved for its regular guests, while most of the campsite is dedicated to naturists. Camping plots are arranged on terraced terrain close to the sea. Within its surface area of 200,000 square metres, the campsite can accommodate up to 1,200 guests at a time. The camping area has a store, restaurant and bar. At the same time, its sports and leisure activities include tennis, beach volleyball, miniature golf, table tennis, and table and small-sided football. The campsite has a daily boat connection to Mali Lošinj on the neighbouring island of Lošinj. Read more of Baldarin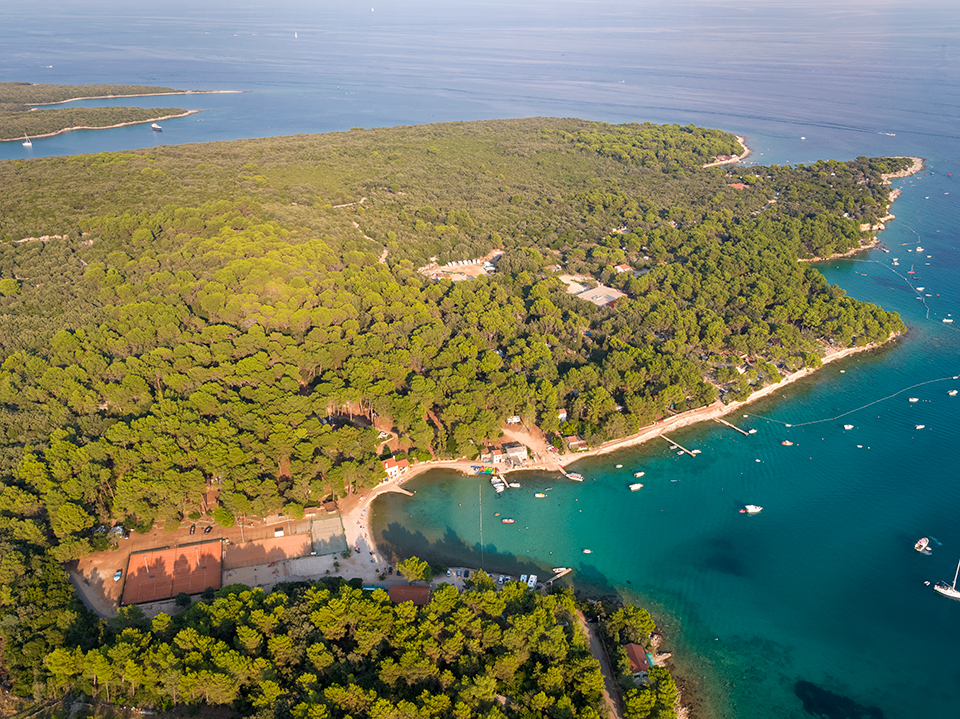 Dalmatia
NUDIST
2 stars campsite, located only 1km from the village of Vrboska, the island of Hvar, dedicated only to naturists.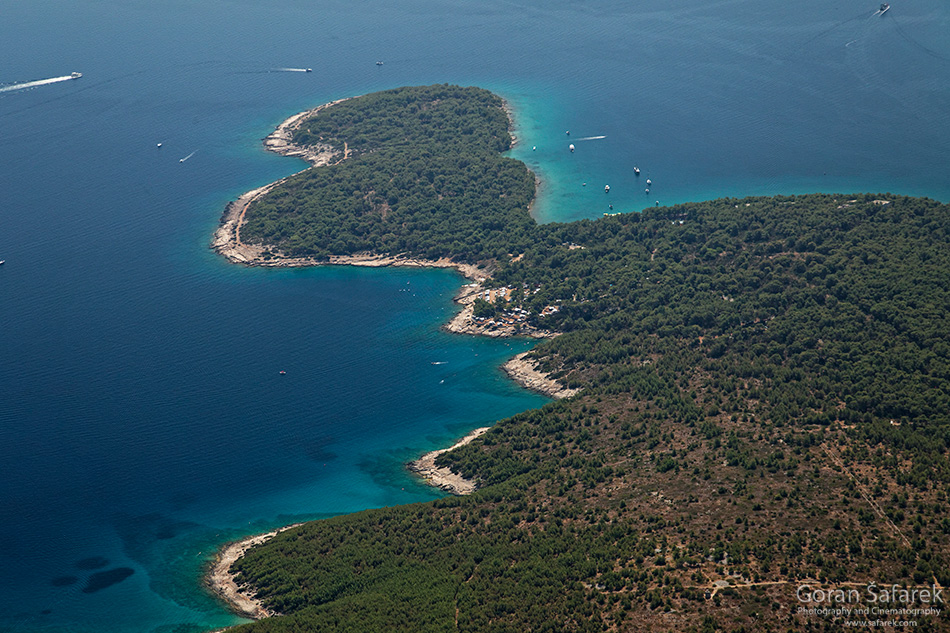 Small but very charming, the naturist campsite Nudist is located 1 kilometre from the idyllic village of Vrboska on the island of Hvar. Directly on the coast, camp Nudist is situated in an area surrounded by trees and overlooks the island of Brač. The campsite can accommodate up to 450 guests, whilst its 800-metre-long stony beach is reserved exclusively for naturists. The beach is very nice, with a small alcove with pebbles, perfect for children. There are several sports facilities in the immediate vicinity, whilst, within the campsite, there is a playground for children. There is also a small restaurant, very affordable and reasonable.
SOVINJE
2 stars campsite, located only 2km from Tkon, the island of Pašman, dedicated only to naturists.
Relatively small compared to Istrian camps, accommodating 200 guests, the campsite is very friendly and charming. It seems everybody knows each other. The camp is in a pine forest, next to the sea south of the island. There are two beautiful sandy beaches available to them. The good news is plenty of shade from the high shore, even in the high noon, but the evening sun is lacking. Within the camp, recreational activities include table tennis, beach volleyball, basketball and boat and bicycle hire. Younger guests can have fun in the campsite's playground area. Tkon is primarily a fishing village but also caters for tourists. Known as the 'Door of Kornati', Tkon offers trekking and mountain bike trails, a variety of exciting architecture of cultural importance and some festivals. Restaurants, cafes, a marketplace and a ferry harbour can be found in the centre of Tkon.
Combined textile and nudist camps:
KOVAČINE
3 stars campsite, this combined textile and nudist camp, is located just next to the town of Cres on the island of Cres.
ARENA KAŽELA
2 stars campsite, situated 2km from Medulin it is one of the largest campsites in Croatia. It is a combined textile and nudist camp.
POLARI
3 stars campsite, located about 3km south of Rovinj, Istria, is a combined textile and nudist camp.
KOSIRINA: (Murter)
The campsite is a textile camping site with two sandy beaches, one of which is reserved for naturists only, whilst its coastline is about 400 metres long with a view of the island of Kornati.
STRAŠKO
This camp on the Pag Island is no longer natural. For Pag, the only possibility is Sveti Duh camp, which is not official, but open to nudists too.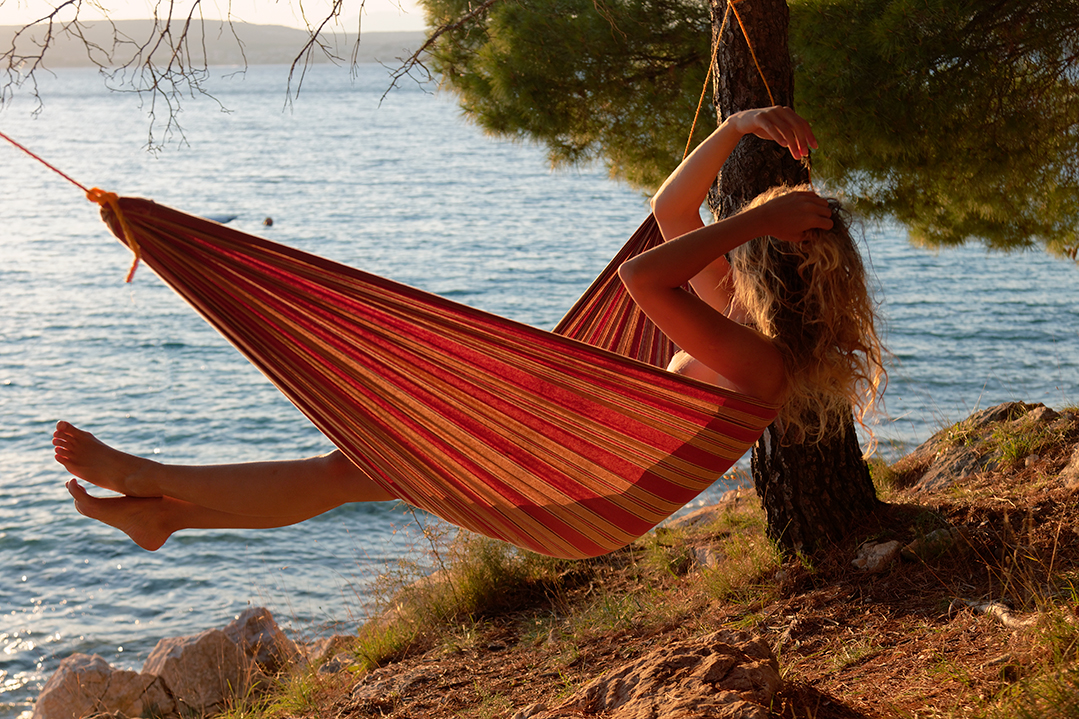 Post written by Naturist Girl; check her Instagram and blog.