Rovinj, or Rovigno in Italian, is a beautiful city on the Istrian peninsula's western coast in Croatia. Known for its picturesque views, stunning architecture, and vibrant culture, Rovinj is a gem that is waiting to be discovered.
This charming city is ideal for those who love to explore and immerse themselves in a new place's rich history and culture.
Rovinj is part of the Istrian region, a peninsula in Croatia. It lies in the northernmost part of the Adriatic Sea, making it a perfect combination of continental and Mediterranean climates. Twenty-two islands and islets surround the city, adding to its scenic beauty.
Being one of the most visited cities in Croatia, Rovinj has everything to offer – from stunning beaches, historical sites, mouthwatering cuisine, and much more. Its strategic location makes it easily accessible from various European cities, making it a popular choice for a perfect vacation.
The Breathtaking Charm of Rovinj, Croatia
The charm of Rovinj, Croatia, is undeniably captivating. Its narrow, winding streets, colourful buildings, and stunning sea views make it a picturesque destination. The city's skyline is dominated by the Church of St. Euphemia, which stands on a hill in the heart of the old town. From here, one can get a panoramic view of the whole city and the Adriatic Sea.
Rovinj is a city that has preserved its historical charm while embracing modernity. It boasts lively nightlife with numerous bars and restaurants serving local and international cuisine. The city also has several art galleries and museums that showcase the rich history and culture of the region.
The city's harbour is another highlight of Rovinj. It is filled with small fishing boats and lined with seafood restaurants and cafes. Here, one can enjoy a meal while watching the sunset over the Adriatic Sea. The city's beaches are also popular for relaxation and water sports.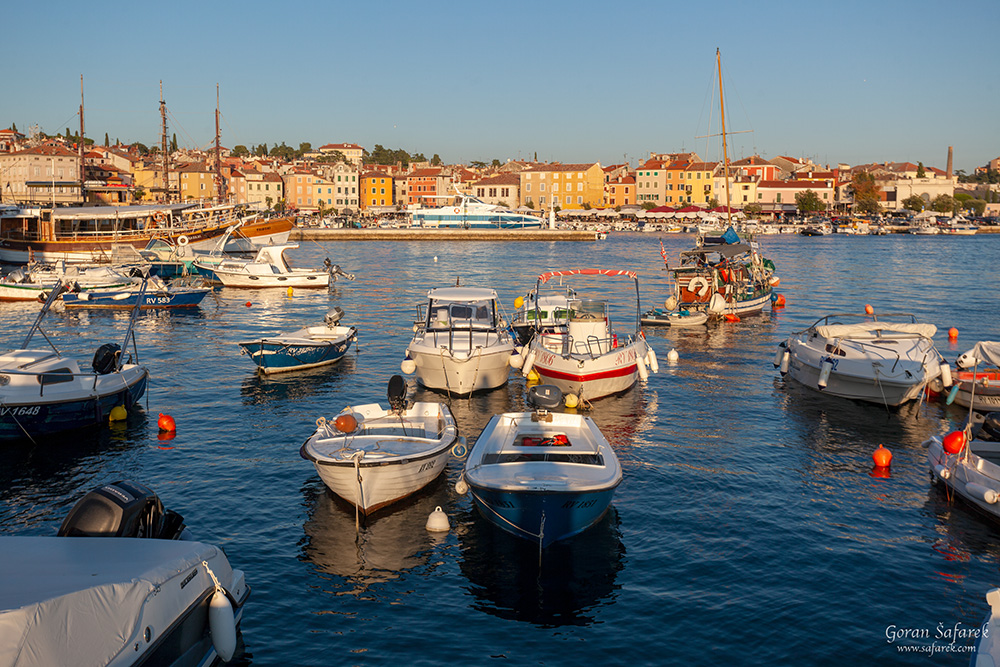 History and Culture: Old Town Rovinj
The Old Town of Rovinj, or Rovinj Old Town, is a testament to the rich history and culture of the city. It is characterised by its cobblestone streets, Venetian-style houses, and numerous historical landmarks.
The Old Town is a pedestrian zone, making it perfect for leisurely walks. One of the most prominent landmarks in this area is the aforementioned Church of St. Euphemia. This Baroque church houses the relic of Saint Euphemia and offers a breathtaking view of the city from its bell tower.
The Old Town is also home to the Rovinj Heritage Museum, which showcases the city's history and culture through various exhibits and collections. The Batana House Eco-Museum is another cultural gem dedicated to the traditional wooden boat known as Batana, which is a significant part of Rovinj's maritime heritage.
For those interested in art, Grisia Street is a must-visit. This picturesque street is home to numerous art galleries and studios and hosts an annual art fair where local and international artists showcase their works.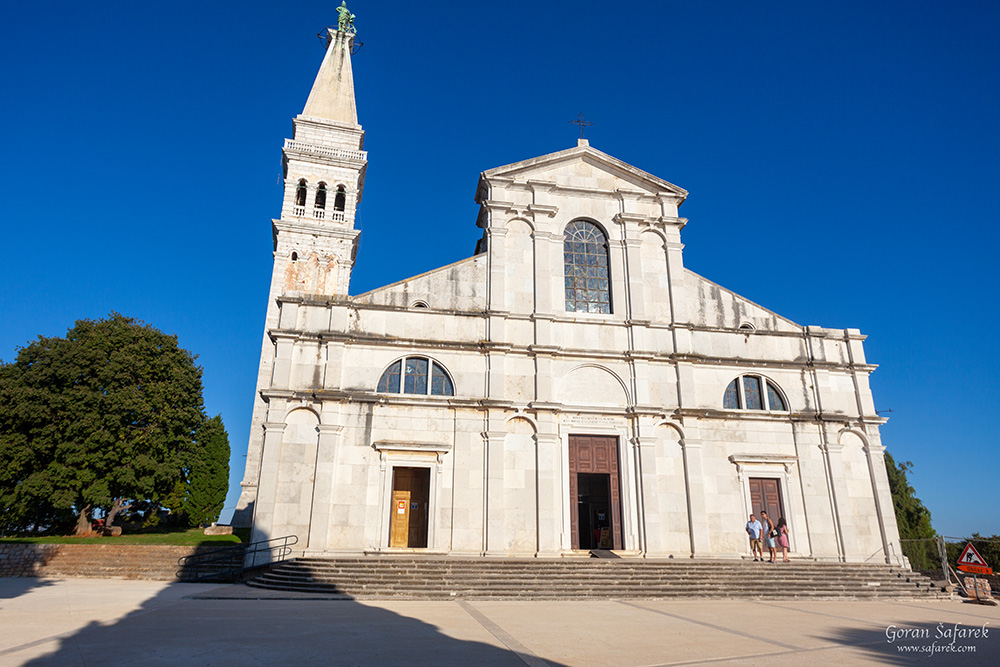 Things to do around Rovinj
Rovinj offers a plethora of activities for all types of travellers. A visit to the Golden Cape Forest Park is a must for nature lovers. This park, located just a short walk from the city centre, offers numerous walking and cycling trails, picnic spots, and stunning views of the Adriatic Sea.
Water sports are also popular in Rovinj. The city's beaches are perfect for swimming, sailing, and diving. For those who prefer a more relaxed experience, boat tours are available to explore the surrounding islands and islets.

Natural beach in Golden Cape Forest Park
Best Beaches in Rovinj
Rovinj boasts several stunning beaches that perfectly escape the city's hustle and bustle. Lone Bay is one of the most popular beaches in Rovinj. It is known for its clear waters, pebbly shore, and lush green surroundings. The beach also offers various amenities such as restaurants, cafes, and sports facilities.
Another notable beach is the Red Island, which is actually a group of two islands connected by a causeway. The island is home to a beautiful pebble beach and offers stunning views of the city. It is also a popular spot for snorkelling and diving.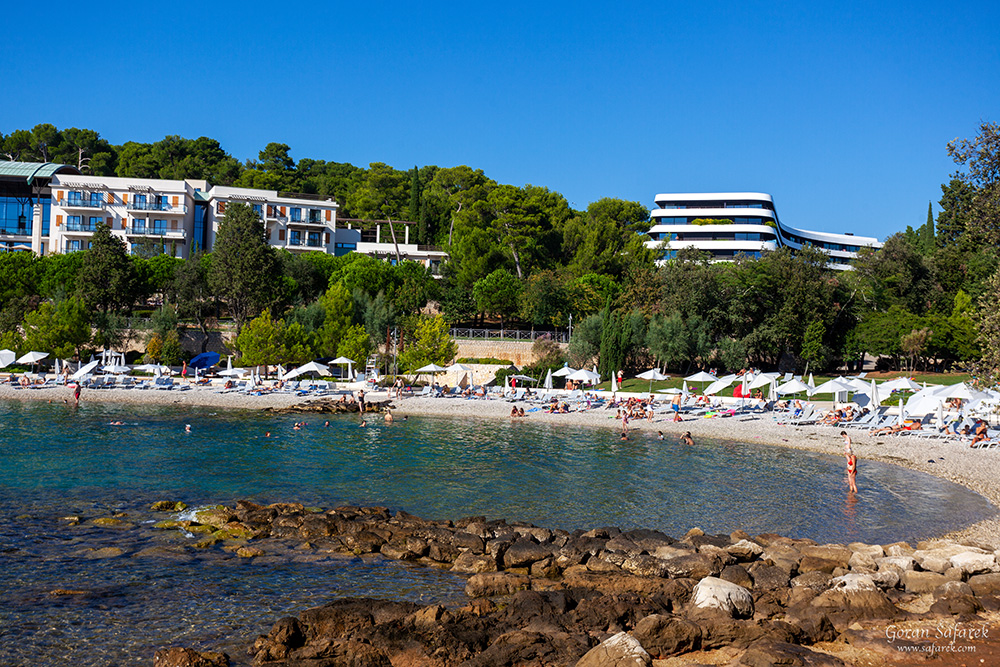 The Mulini Beach near the city centre is another favourite among locals and tourists. It is known for its clean and clear waters and offers various facilities like sunbeds, umbrellas, and a beach bar.
Where to Stay in Rovinj: Accommodation Guide
Rovinj offers a wide range of accommodations to suit all budgets and preferences. From luxury hotels to budget-friendly hostels, one can easily find a place to stay in Rovinj.
The Hotel Lone is a popular choice among luxury travellers. This 5-star hotel offers spacious rooms, a spa, and a restaurant that serves local and international cuisine. The hotel is also located near Golden Cape Forest Park, making it a perfect choice for nature lovers. Grand Park Hotel Rovinj is a modern building near the marina.
For budget travellers, the Old Town Hostel is a great option. This hostel offers dormitory-style rooms, a communal kitchen, and a lounge area. It is also located in the heart of the Old Town, making it a perfect base for exploring the city.
Apartments and vacation rentals are also popular in Rovinj. These accommodations offer the comfort of home and are perfect for families or groups of friends.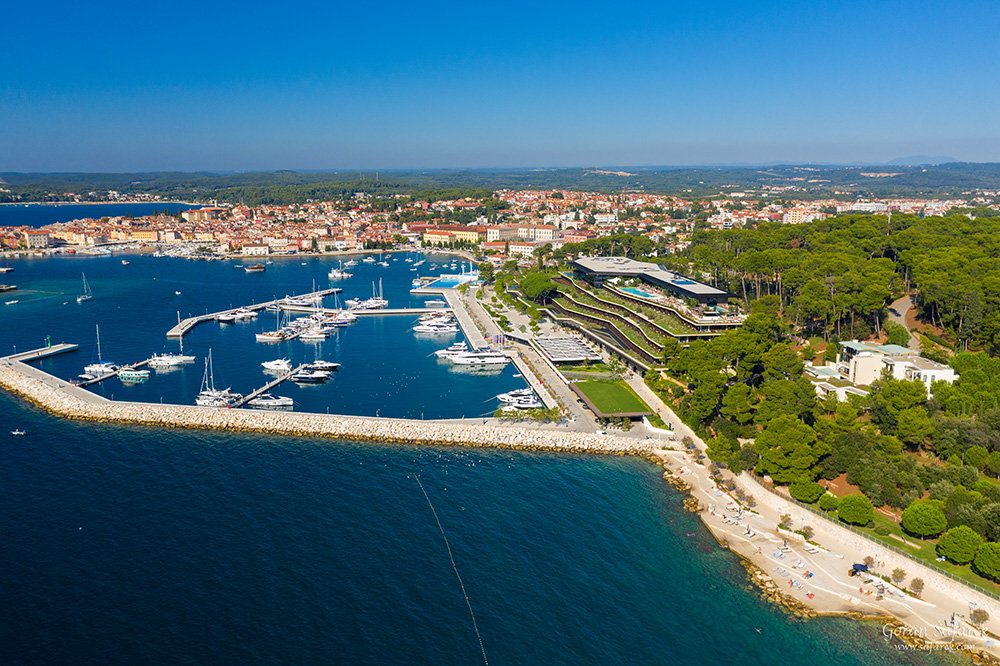 Taste of Rovinj: Best Restaurants and Local Cuisine
Rovinj is a paradise for food lovers. Its cuisine is a blend of Italian and Croatian influences, resulting in mouthwatering dishes that are sure to satisfy any palate.
A must-try dish in Rovinj is the Istrian truffle pasta. This dish, made with locally sourced truffles, is a culinary delight. Seafood is also a staple in Rovinj's cuisine. The city's harbour has restaurants serving fresh seafood dishes like grilled fish, scampi, and octopus salad.
La Puntulina is one of the best restaurants in Rovinj. It offers a variety of local dishes and a stunning view of the Adriatic Sea. The Monte Restaurant, a Michelin-starred restaurant, is another must-visit for foodies. It offers a creative menu that blends local and international flavours.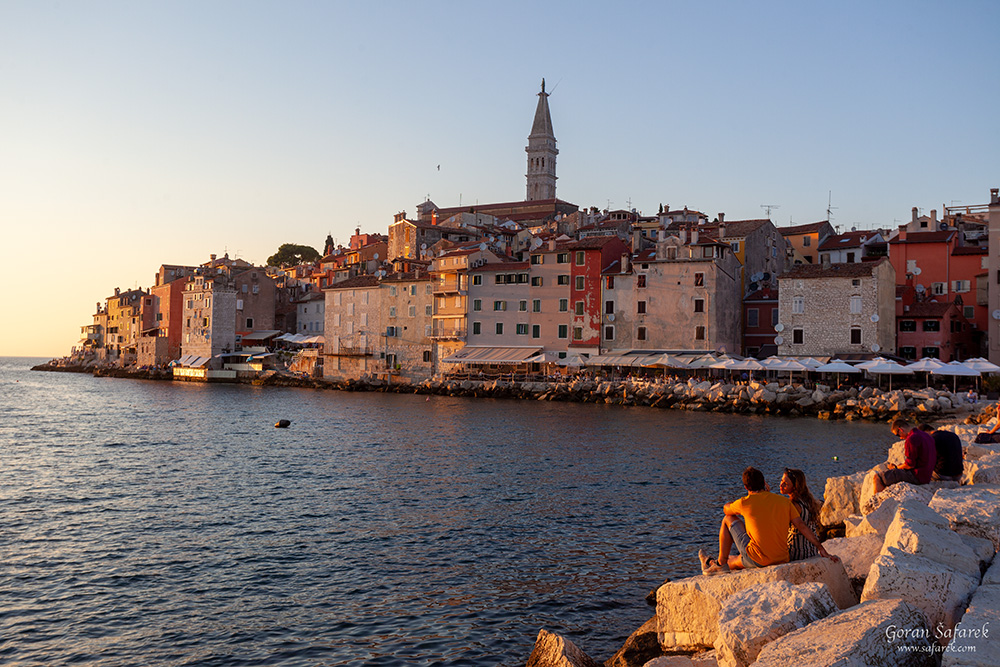 Rovinj Vacation: Planning Your Trip
Planning a trip to Rovinj is straightforward. The city is easily accessible from various European cities, making it a perfect destination for a vacation.
The best time to visit Rovinj depends on what you want to do. If you want to enjoy the beaches and outdoor activities, the best time to visit is during the summer months, from June to August. The weather is warm and sunny during this time, and the city is lively with various events and festivals.
However, if you prefer a quieter and more relaxed vacation, the shoulder seasons of spring (April to June) and fall (September to October) are ideal. The weather during these months is mild and pleasant, and there are fewer crowds.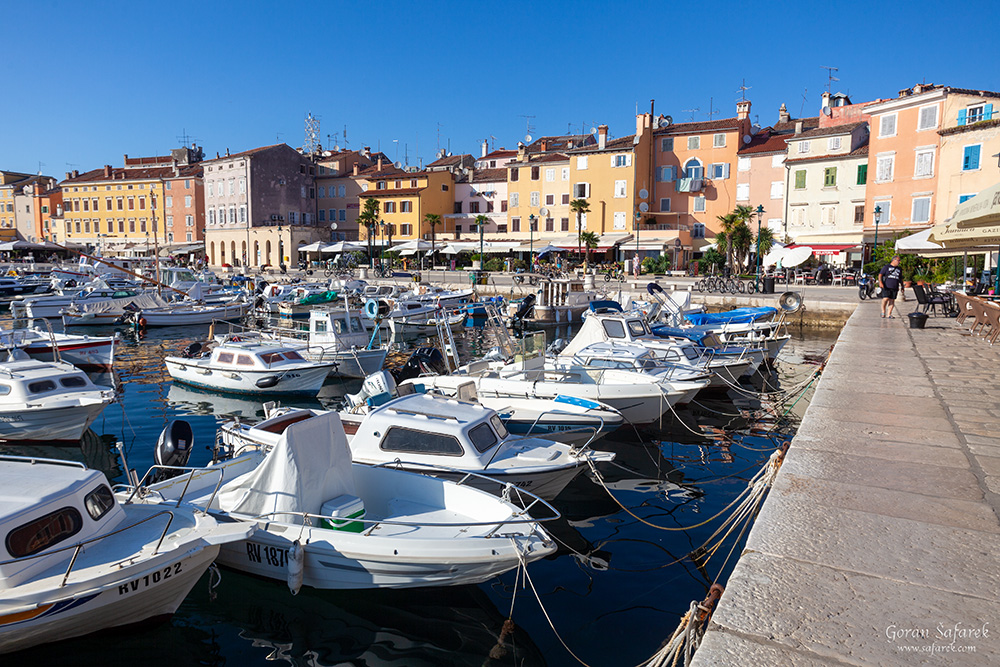 Rovinj seafront
Winter in Rovinj is also charming, with cooler temperatures and fewer tourists. However, some attractions and restaurants may be closed during this time.
It is also important to book accommodations in advance, especially during the peak season. Rovinj offers a wide range of accommodations to choose from, so finding a place that suits your budget and preference should not be a problem.
How to Get to Rovinj
Rovinj is easily accessible from various parts of Europe. The nearest airport to Rovinj is Pula Airport, which is about 40 kilometres away. The airport is well-connected to several European cities, making it a convenient option for international travellers.
One can take a taxi or a shuttle bus from the airport to Rovinj. Several car rental services are also available at the airport for those who prefer to drive.
For those travelling from within Croatia, there are regular bus services from various cities like Zagreb, Split, and Dubrovnik to Rovinj. There are also ferry services from Venice, Italy to Rovinj, which is a scenic and enjoyable journey.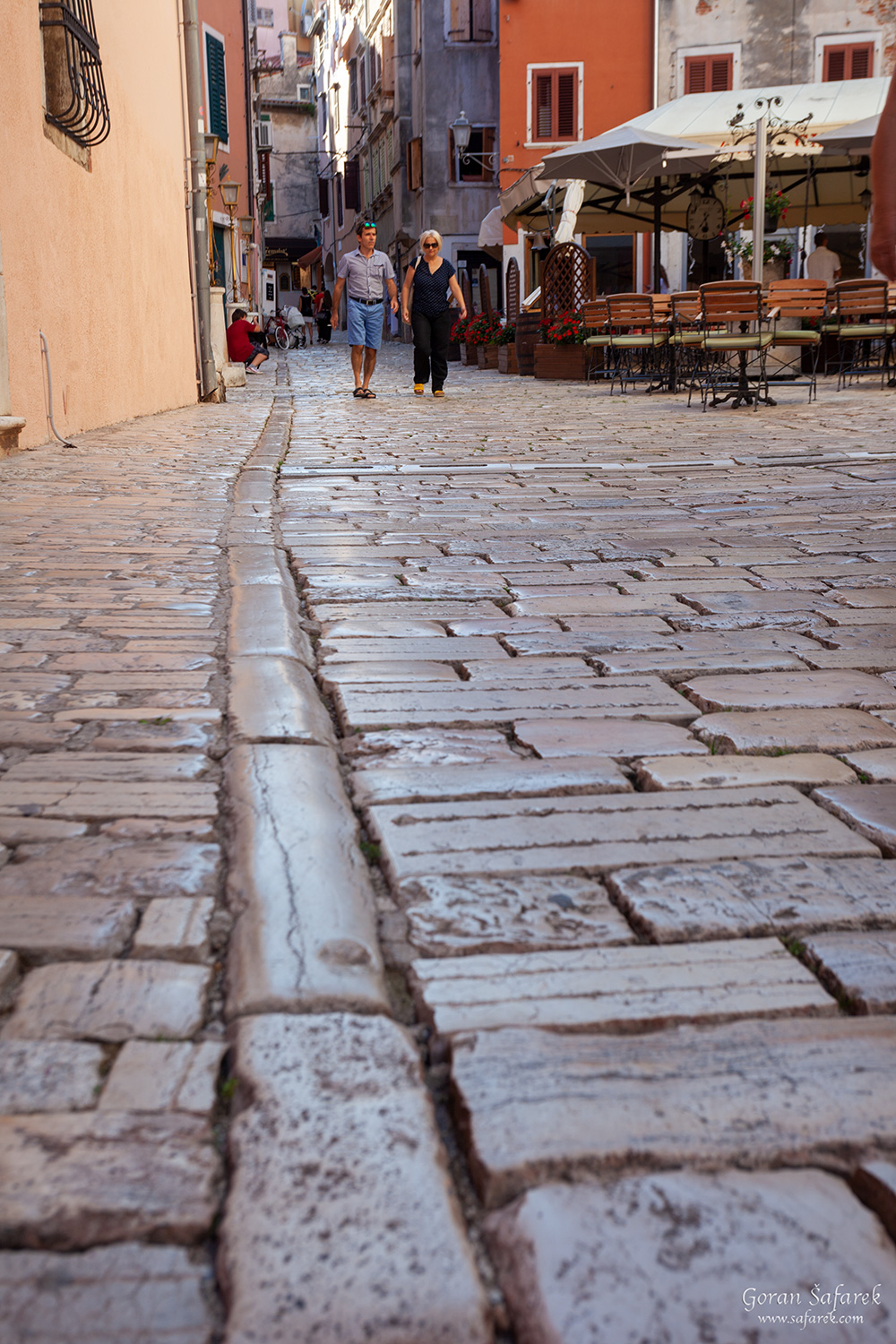 Parking in Rovinj: A Brief Guide
Parking in Rovinj can be a bit challenging, especially during the peak season. The city has several parking lots, but they can get crowded, especially during summer.
The parking lots are divided into zones, with Zone 1 being the closest to the city centre and the most expensive. The further away from the city centre, the cheaper the parking fees.
It's also important to note that the Old Town is a pedestrian zone, meaning vehicles are not allowed. Therefore, if you're staying in the Old Town, finding a parking spot outside the area is best.
Conclusion: Rovinj – A Must-Visit Destination in Croatia
Rovinj is undoubtedly a must-visit destination in Croatia. Its stunning beaches, rich history and culture, delicious cuisine, and warm hospitality offer a unique and unforgettable experience.
Whether you're a history buff, a foodie, a nature lover, or just someone looking for a relaxing vacation, Rovinj has something to offer. So why wait? Start planning your trip to this charming city and get ready to be captivated by the magic of Rovinj.